With Father's Day rapidly approaching, you have the opportunity to surprise the person who witnessed your very first breath with an extraordinary gift. Say goodbye to ordinary presents and consider a Father's Day mug instead. These original and personalized mugs serve as heartfelt messengers, enabling you to express all your emotions to your loving dad. The challenge lies in choosing that one exceptional mug capable of instantly captivating his heart on this joyous occasion. Our ultimate objective? To ensure that this mug becomes an unrivaled treasure in your dad's collection, holding a special place in his heart for years to come.
Let's add some humor to the Father's Day mug section
Inject a dose of humor into your Father's Day celebration with a special mug that perfectly matches your dad's funny bone. If he's the master of witty one-liners and loves sharing hilarious pictures, our humorous Father's Day mug is tailor-made for him. When he unwraps this gift, he'll realize that you've inherited his sharp sense of humor. For the Star Wars enthusiast dad who loves to playfully channel Darth Vader with his booming, "I am your father" rendition, we recommend our side-splitting Star Wars-themed mug aptly titled "I am your father." Brace yourself for laughter-filled moments and capture some truly memorable photos with this comical choice.
Show your love with a Father's Day mug
Father's Day is a momentous occasion to shower your dad with an abundance of love and show him that he will forever hold a paramount place in your heart. Despite the occasional disagreements, such as those moments when he insisted on homework or delayed your access to a cell phone while your friends had already embraced theirs, your affection for him remains unwavering. That's why there's no better gesture than presenting him with a Father's Day mug that encapsulates a profound message of love.
Every morning as he begins his day or during peaceful tea moments, this mug will serve as a poignant reminder that his cherished child deeply cares. For the dad who consistently goes above and beyond, ensuring your well-being, Becasa Porcelain recommends the endearing "Papa poule" Ceramic Mug—a choice that is sure to melt his heart and evoke a sense of pure joy.
Presenting our handpicked selection of favorite Father's Day mugs
Ceramic Mug "PAPA"
Searching for an exceptional Father's Day gift? Our ceramic mug bearing the endearing title "PAPA" is the epitome of love. With its elegant design, it effortlessly conveys your profound affection for your dad. This thoughtful gift will undoubtedly fill him with pride, as he proudly showcases his Father's Day mug to friends and family, eager to share the magnificent token of love bestowed upon him by his son or daughter. As he adds it to his cherished collection, this mug will hold a cherished place, adorned with a personalization that speaks volumes.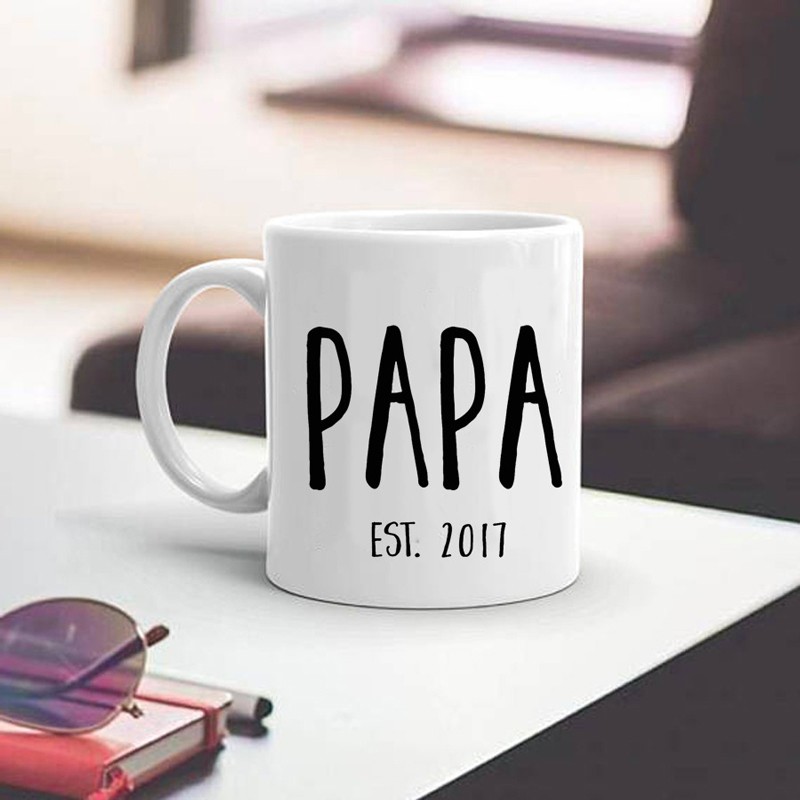 Ceramic Mug "Smile face"
Looking for a Father's Day gift that guarantees a cheerful atmosphere? Look no further than our whimsical "Smile Face" ceramic mug. This delightful mug is sure to bring a smile to anyone's face as they enjoy their morning coffee or tea. Just imagine the impact when your dad proudly displays this mug on his work desk! Good humor is infectious, and this personalized mug serves as a perfect vehicle to convey it in the most delightful way. Spread joy and laughter with this unique Father's Day gift that will brighten up your dad's day, sip after sip.
Ceramic Mug "Papa Bear"
Does the term "papa bear" affectionately describe your dad because you love snuggling up to him and giving him big, warm hugs? If so, our "Papa Bear" Ceramic Mug is the perfect choice for a personalized Father's Day gift.
Ceramic Mug "Super Dad"
From the time you were a child, you've always believed that your dad is a real-life superhero, spending his weekends saving the world. You even declared to others that it was his job to be Batman or Superman. Now, for this Father's Day, we have the perfect gift to honor your extraordinary dad: our original "Super Dad" Ceramic Mug.
Why Choose a Father's Day Mug as the Perfect Gift?
1. An Original Cup to Convey a Message
When it comes to Father's Day gifts, there's something truly special about a gift that carries a specific message, customized for the one who nurtured and cared for you from the earliest days of your life. Whether you're looking for a humorous touch or a heartfelt expression of love, a Father's Day mug offers a wonderful opportunity to communicate your sentiments in a unique and personalized way. At Becasas Porcelain or The Becasa online store, you'll discover a diverse range of mug options, ensuring you'll find a suitable and personalized gift that perfectly captures your dad's essence.
2. Brighten Up His Mornings with a Father's Day Mug
We all know that the morning sets the tone for the entire day—whether it's filled with joy or, on the contrary, a bit gloomy. To ensure your father enjoys a delightful day, be it at work or at home, there's nothing quite like starting it off with a steaming cup of coffee or a comforting hot chocolate served in an original, smile-inducing mug. Present your dad with a Father's Day mug that exudes boundless joy, and witness how it transforms his entire day. As he savors his favorite beverage from this special mug, he'll carry a radiant smile that will accompany him until bedtime.
3. The Mug: An Original and Quality Gift
When it comes to selecting a gift for your father, ordinary just won't do. You want to offer him something that stands out, far from ending up neglected at the bottom of a cupboard or breaking at the slightest touch in the dishwasher. That's why Becasa Porcelain proudly presents a carefully chosen collection of Father's Day mugs that are truly extraordinary, featuring messages that are both humorous and deeply touching. With our mugs, your dad can relish his favorite tea or cappuccino in a 100% ceramic cup that not only withstands the test of time but also becomes an integral part of his everyday routine.
4. The Ultimate Advantage: Quick Home Delivery of the Mug
We understand the challenges of shopping during these times. At Becasa Porcelain, we offer both express and standard delivery options to ensure your chosen mug arrives swiftly at your doorstep after placing your order. Even if you find yourself a little behind schedule with your purchase, consider yourself fortunate. Your order will be delivered within a matter of days.
This Father's Day, you aim to surprise and, above all, please your dad. At Becasa Porcelain, we've grasped this desire, which is why we present you with a selection of personalized mugs that can cater to your dad's unique tastes. As the person who knows him best, you're likely to discover THE gift that will make all the difference. All that remains is for you to make your choice and witness his delight!