Your home isn't complete without a vase or two in your Christmas decorations. Overstatement? We don't think so! In fact, a good vase can last a lifetime and is not only a decorative element of your home but also a practical necessity.
For example, an understated glass vase will hold unexpected bouquets and freshly picked cut flowers from your garden. On the other hand, a bold ceramic vase can become the centerpiece of your dining table or even a sideboard. This shows how vital a versatile vase can be!
In this article, we've put together an expert guide on choosing your favorite new vase and 15 of our favorite designs for you to choose from.
What is the best material for a vase?
First of all, when you are choosing a vase, apart from the material you choose, it depends to a large extent on what you want it to be used for. Practical or decorative?
If you want a new decorative piece, ceramic vases are the best vases to use. Because they come in many beautiful shapes and colors, they are great decorative accessories. But be careful, because some ceramic vases can be porous and moisture can slowly seep out. Thus, it may damage antique furniture and marble. To alleviate this, The Becasa suggests adding a hidden plastic vase inside the ceramic vase when you hold a freshly cut bouquet in the ceramic vase.
How to choose a Christmas decorative vase?
A decorative vase, as the name implies is itself decorative. So it's a lot more than just a container for flowers. Therefore decorative vases are usually more daring in shape, texture, color, and pattern. Of course, these vases will also take into account a certain amount of practicality in addition to good looks. Such as. Practical elements such as wide collars. At Becasa Porcelain, we always try to balance the design and functionality of our products.
If you want your ceramic vase to stand out in your Christmas decor, then a handmade ceramic vase could be in your consideration. Many handmade ceramic vases will have special sculptural elements.
Recommended Christmas decorative vases
Modern Creative Twist Vase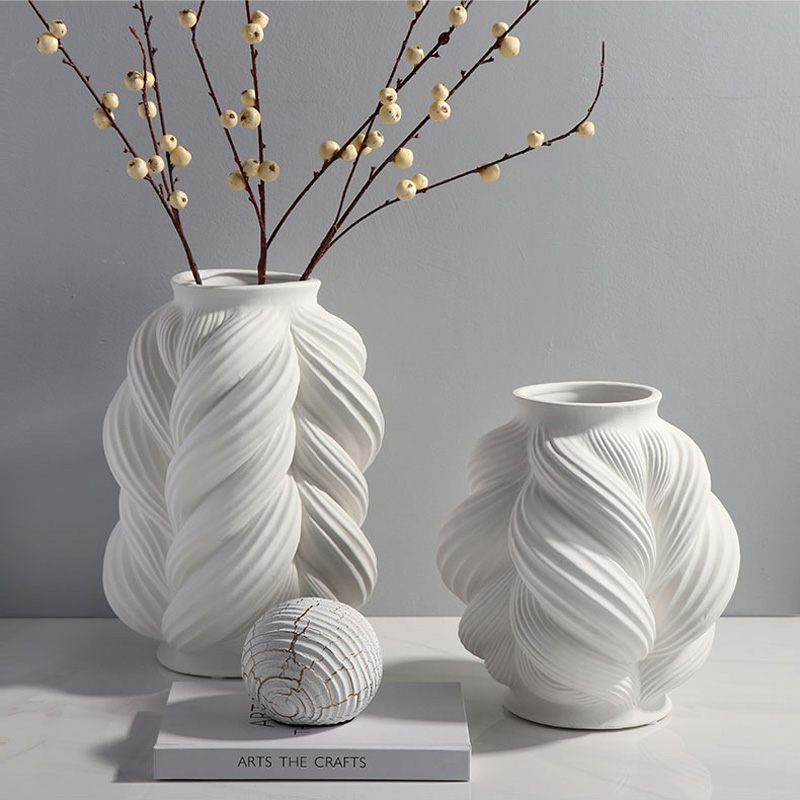 The twist-striped design makes this vase very beautiful. It can be used as a stand-alone decorative piece as well as a practical piece. The narrow neck design firmly supports the stems and branches and prevents them from tilting to one side.
Sculptural Ceramic Vase
The unique sculptural design combined with the ceramic vase creates a unique artistic effect. The vase is as if it has just been sculpted by the hands of a master. We think it is a very creative and eye-catching piece.
Cloud Ceramic Vase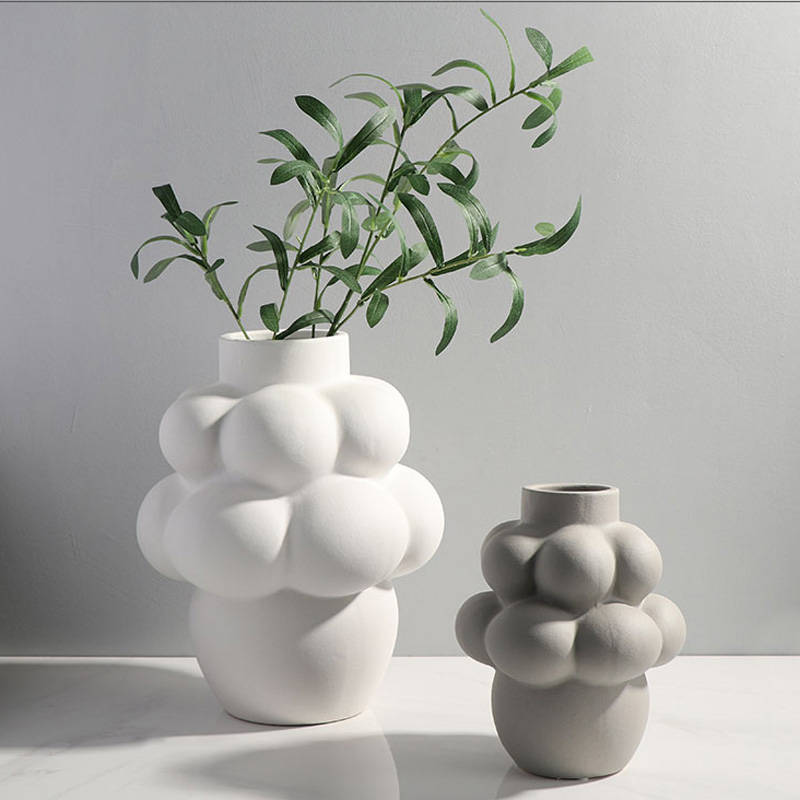 Now, that's what you call eye-catching. The spherical overlay creates a playful cloud effect, and the matte white makeup seems to pick the clouds in the sky and bring them home.
Modern Black And White Vase
In addition to the ridged details, we have intentionally included dotted elements. Please don't worry, these dots do not create water leaks. The contrasting colors of black inside and white outside add to the texture of this vase.
Water Drop Splashing Design Vase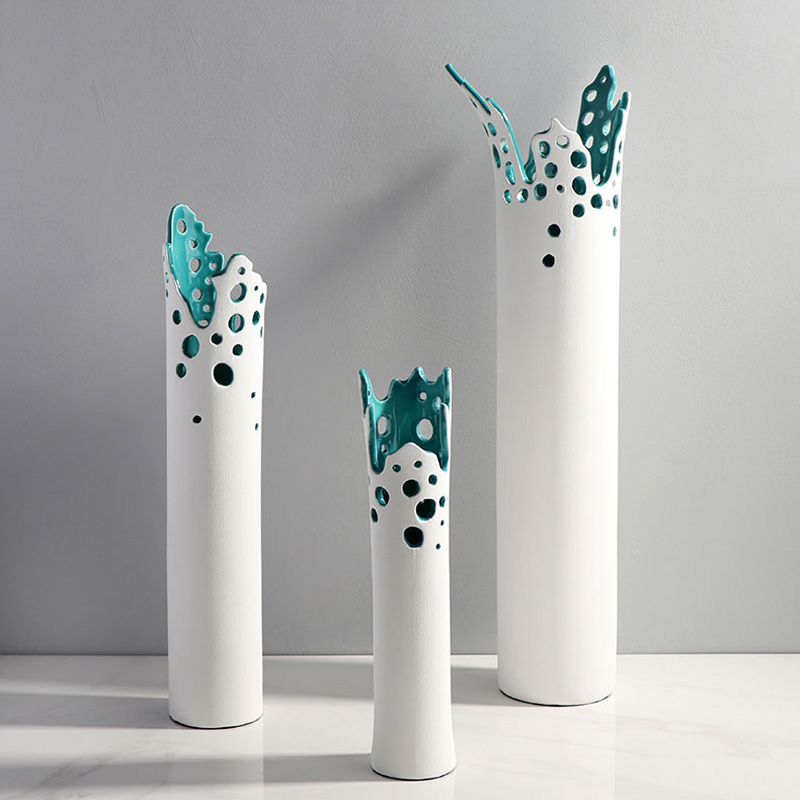 Do you ever want to record the water drop splash moment? Then this vase is something you absolutely can not miss. The design of water splashing around brings vitality and life to this vase. With the cylindrical vase design, you can mix smaller blooming flowers among the larger ones for an interesting decoration.
Weathered Design Vase
Such a beautifully calming and soft hazy modern palette that was clearly thoughtfully conceived. We really like the way it gently draws the eye in. The weathered inspiration drawn from nature brings a different touch to this vase.
Origami Vase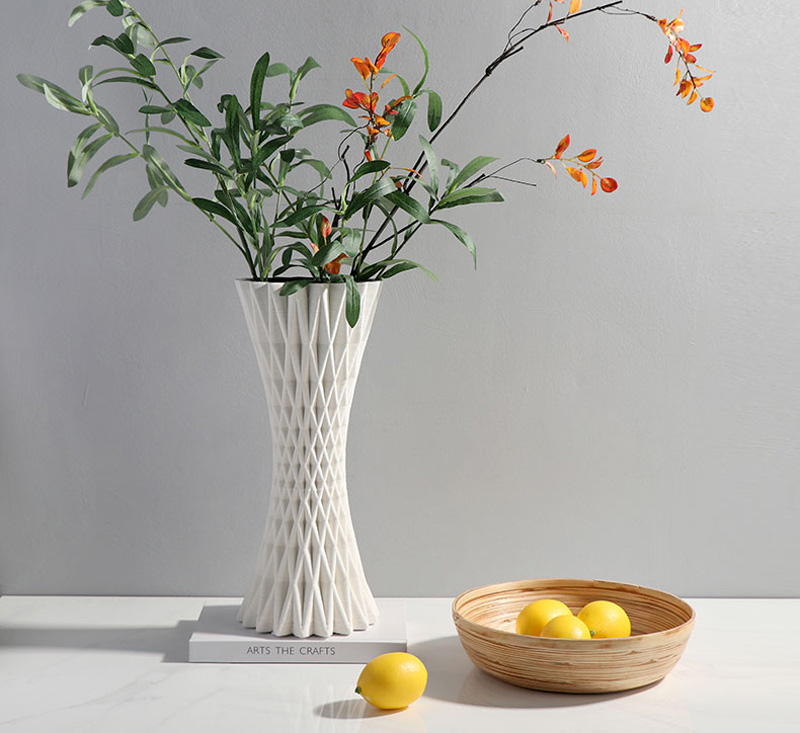 This vase is made of high-quality cream glazed ceramic and knows how to impress with its unusual shape. The origami-like patterned design is absolutely striking, making this vase a seasonal must-have.
Vintage Striking Vase
The ridged pattern of this unique vase is inspired by vintage designs in both shape and texture to create a striking finish. Perfect for pairing with dried flowers for a contemporary look.
Marble Finish Vase
Featuring a gold rim design and a faux marble textured finish, this striking vase is the ideal accessory for modern home decor.
Abstract Vase
When you see this vase, does it remind you of Disney's Mickey Mouse? The bold abstract design is sure to catch the eye and is perfect if you want a vase that makes a statement.
Bauhaus Ceramic Vase
A Bauhaus-inspired pattern brings a rustic look to this sturdy Mediterranean-style vase, while the abstract pattern maintains a modern feel. The flattened design of the vase adds a stylish touch.
Sumo Vase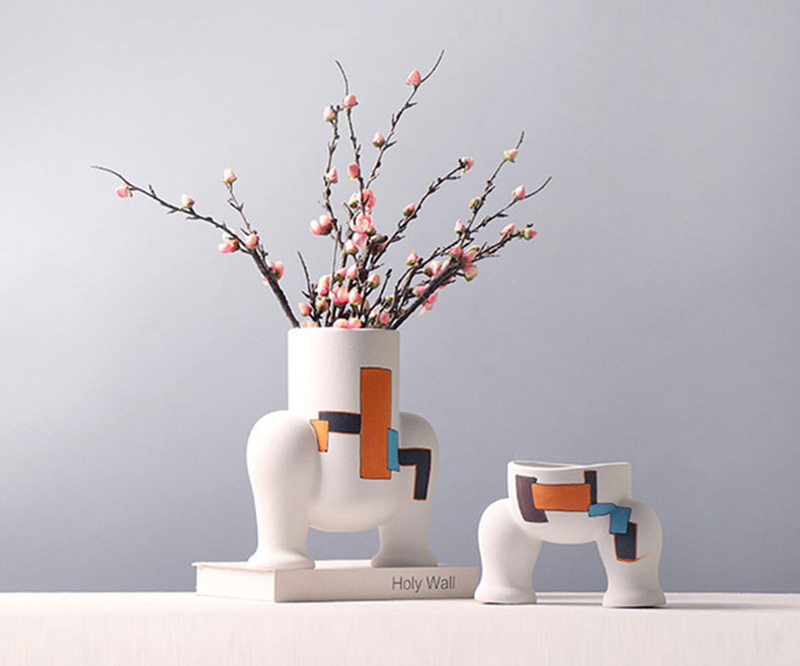 This vase is one of the most charming ceramic pieces of 2022, taking inspiration from the action of sumo wrestling. We wanted the vase ornament to have not only a decorative role, but also an artistic value as well as an emotional value incorporated by the sense of humor.
Pearl Glaze Vase
Lace, pearl glaze, details – this modern vase has it all. We love the combination of the vintage upper part and the classic base.
Handmade Rough Pottery Vase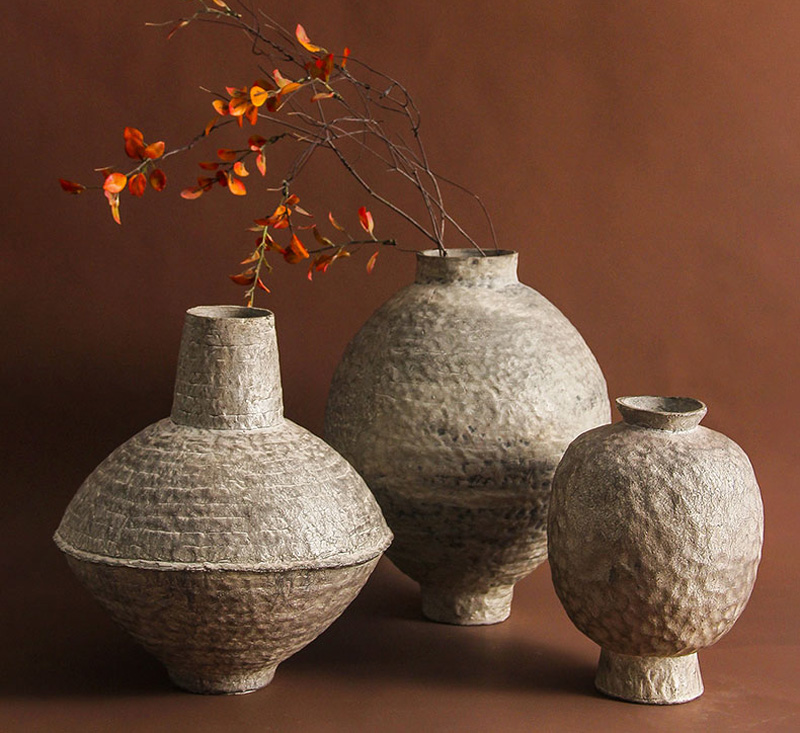 This is a handmade Chinese oriental modern ceramic vase pot with a matte metallic black color ( dark gray ) and marks pattern. Not a smooth surface, a rough feeling.
Wave Pattern Handmade Vase
It's important to find inspiration in life once in a while in order to keep adding fun to your home. The rich and uncluttered decorative folding pieces are stylish and versatile, bringing more nature into the space of your home.