Most "vintage ceramic tableware" refers to tableware produced by major porcelain factories between about 1920 and 1980 and well preserved by collectors. And most of them are civilian items and are still a bit different in every way from the real antiques that can enter museums.
Most of the mid-antique tableware is worth a lot of money. And things are rare and are sought after by many collectors for their unique designs and historical deposits.
If you are lucky enough to own one of this vintage tableware, it is a rare fate. The moment you get it in your hand, you will find that good design can really pass on forever and never go out of style.
Today, we will explore some classic vintage tableware brands with you from the perspective of a professional porcelain manufacturer.
Arabia, Finland
Form must have a content, and that content must be linked with nature. If you love nature, if you love life, you will definitely fall in love with Arabia at first sight. — Alvar Aalto
Arabia is a well-known tableware brand from Northern Europe. Founded in 1873, Arabia is historically synonymous with Finnish ceramics. In addition, it is also the official brand of the Finnish Prime Minister's residence.
If you take a closer look at their products, you will find that most of their ceramics have simple shapes and soft lines. And the quality is also extremely high, with a distinctly Nordic character. In fact, many Finns treasure their Arabia ceramics for life, even as heirlooms.
If you also want to start collecting vintage tableware, you can try to start with the Arabia brand. If the cup type and color are not too rare, then you can basically have a set of coffee cups for around 200 euros.
For example, some time ago the most over-hot Koralli series. This series uses the Ulla Procope design thick ware type, production in 1983-1987. In addition, the coffee cup body is a particularly gentle lotus pink color, definitely a girl's favorite.
Pure hand-painted pattern glaze even through the years, which is still very vivid. It is almost can not see the product design is more than 30 years ago. The price once soared to the need of 500 euros before you can get it due to the scarcity of the quantity.
In addition to this collection, the hottest collection on the market is Paratiisi, which means "paradise" in Finnish.
The Paratiisi collection was designed by Birger Kaipiainen (1915-1988), a Finnish ceramic designer known as the "Prince of Finnish Ceramics", and is inspired by nature. The porcelain is known for its bold, intricate tones and patterns. The designer printed the fruitful fruits on the tableware in contrasting colors, giving the impression of abundance and fullness.
The fruit has a total of three series:
Black and white
Purple
Blue and yellow
Currently, we can still able to buy the new one from the Arabia website.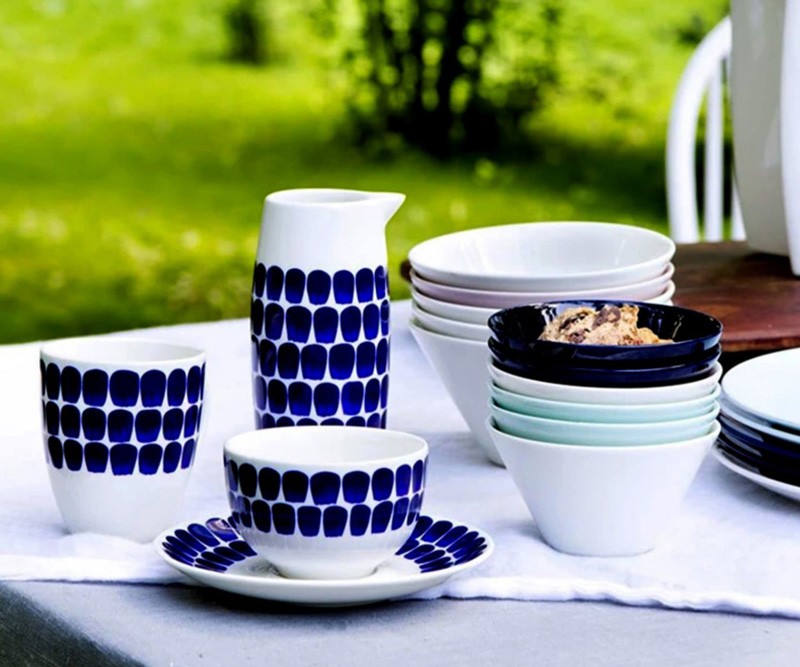 Of course, there is another classic Arabia collection, 24h Tuokio. Which is said to be inspired by the 140-year-old Arabian decorative tradition. In other words, Tuokio means "fleeting moment" and the designer wanted to make every moment of the tableware pleasurable.
Each dark blue petal has the realistic feel of a brush stroke. Not only are the colors rich and vintage, but the simple patterns complement a variety of dishes.
Rorstrand, Sweden
Rorstrand is a Swedish ceramics brand and the second oldest in Europe. The brand was established in 1726 as a brand of royalty.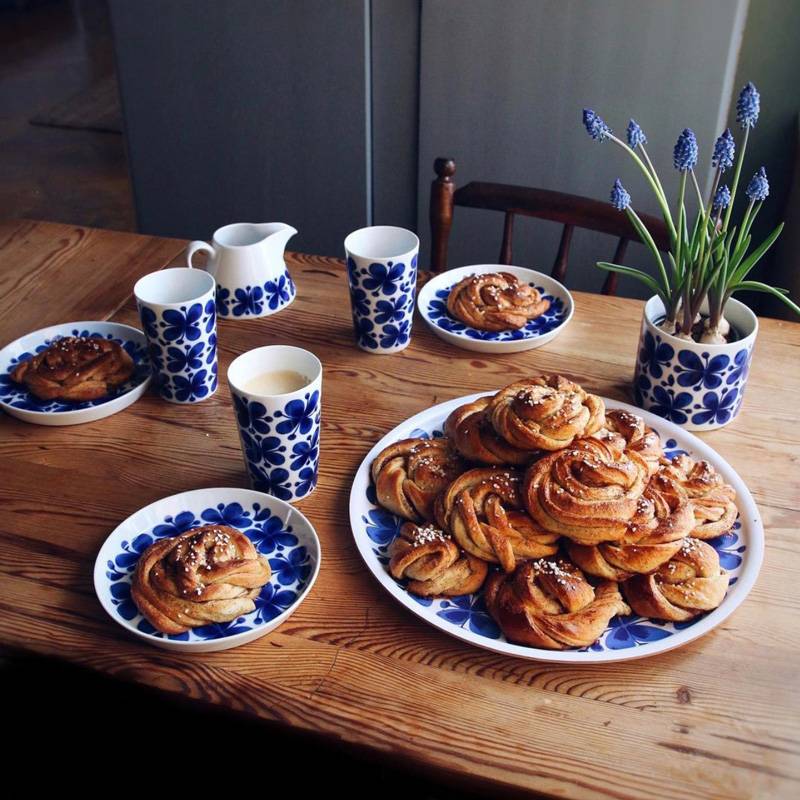 In the 18th century, it gained a reputation in Europe for its excellent decorative properties and the perfect quality of its products. And after the 19th century, it mixed into Scandinavian artistic characteristics and won many international awards.
There is one more thing you may not know. That is that it is also the official tableware brand for the Nobel Prize award dinner.
Classical blue and white color scheme. Rorstrand Mon Amie is a collection of dinnerware that will bring brilliance to any occasion.
The Mon Amie collection was designed by Marianne Westman in 1952. She is also known as the "Godmother of Swedish porcelain".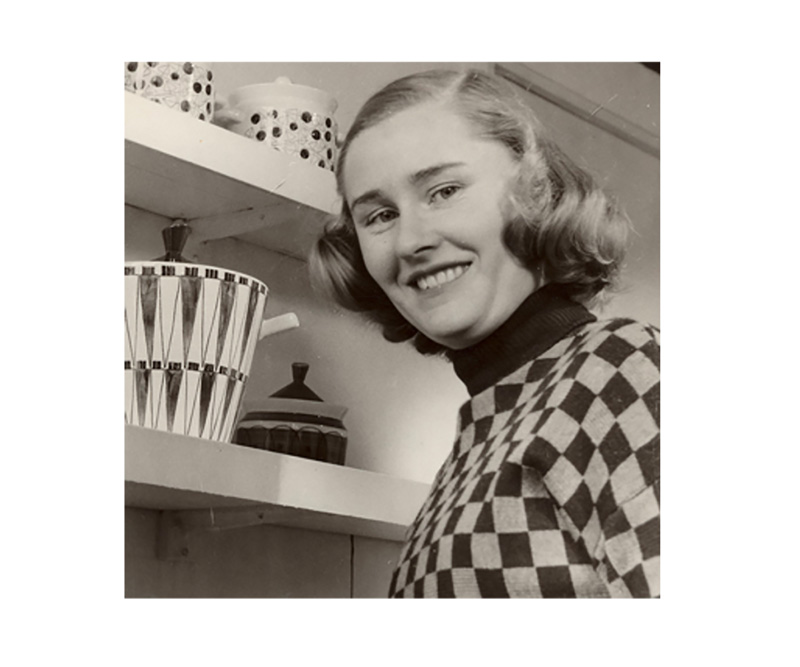 The inspiration for this collection came from seeing a Maack Euonymus in the countryside on a rainy summer night. Marianne used it as the prototype for her design, which evolved into four petals and four pistils. At first glance, it looks like a dancing butterfly. The design is full of feminine romanticism.
Speaking of the craftsmanship of this porcelain. In addition to the glaze treatment being very meticulous, but also the Mediterranean romance into the Nordic Swedish tradition of simple living style. A high-quality glossy clover pattern spread throughout the cup, and the classical blue and white design are not lacking Oriental romantic feelings.
If you have an in-depth understanding of this brand, you will find that more than 80% of its designers are women. They are good at using the unique sensibility of women to find beauty in everyday life. Thus, the brand has got a number of classic collections. The women designers also give this brand's tableware a warm and gentle temperament.
In addition, the brand has another classic collection, which is the Eden collection. The strong black lines and the unusual blue apple combination bring visual impact. This collection is not only popular in Sweden, but also a favorite of collectors around the world. People who own this set think every time they put this set on the table, they feel like they are close to heaven.
Royal Copenhagen, Denmark
Whenever we see the iconic white background and blue flowers of the Royal Copenhagen tableware collection, it is easy to be reminded of Chinese celadon.
The Royal Copenhagen brand was founded in Copenhagen on May 1, 1775, by Queen Julianne Marie of Denmark. Specializing in the production of porcelain for the royal family's own use, it was also used as an important source of diplomatic gifts.
The iconic crown represents the supreme authority of the Royal Family. The three wavy lines represent the three straits of Denmark: the Sand Gap, the Great Channel, and the Small Channel. These three wavy lines are found on the bottom of every product in their house.
Since Royal Copenhagen represents the honor of royalty. So the brand is not only in the process of excellence, and no see porcelain is insisted on being hand-made.
They using of pure high-quality kaolin clay as a material. In addition to it, their glaze also uses cobalt blue minerals as raw materials. Their patterns are all hand-painted and made using the underglaze process. 1400 degrees of firing makes their porcelain hard and dense, with a warm and beautiful glaze.
According to Royal Copenhagen, each of their porcelain works need to go through 30 processes, and a number of artisans and artists to create the presentation. Thus, even after 2 centuries, it remains as elegant and exquisite as ever.
There is nothing more classic than the flat-edged Musselmalet series. This is also the first collection of Royal Copenhagen in 1775. Therefore, each dish is marked with the word "1" on the back to represent the "No. 1 pattern". It so happens that this collection has also become a classic element of the Royal Copenhagen brand.
Musselmalet patterns are all hand-painted by the Royal Copenhagen brand's painters. So the back of the tableware also has the signature of the artist. This also gives each dish a unique artistic character.
In 1885, Arnold Kroger was appointed artistic director. As a brilliant designer, he added half and a full lace design to the Musselmale collection. This gave the new Musselmale tableware collection a new vitality. Both luxury and elegance.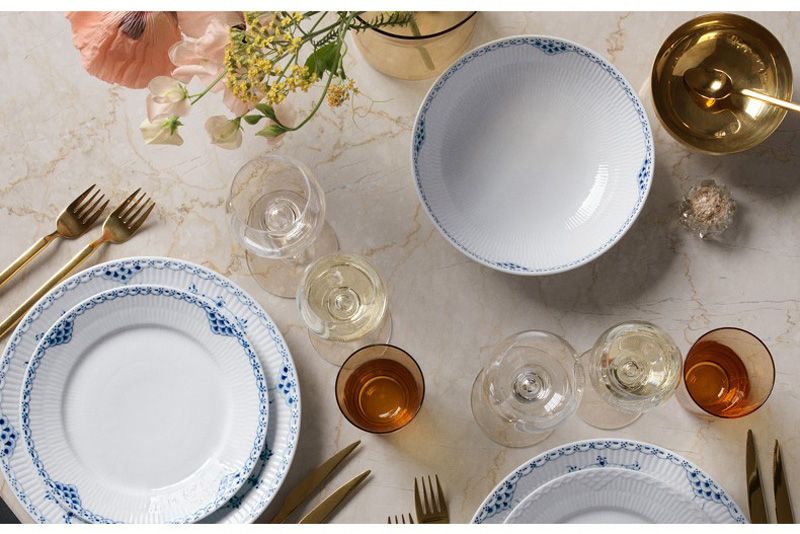 Royal Albert, UK
When it comes to mid-century ceramic tableware, how can we not talk about British brands? The exquisite sets of tea sets for British afternoon tea in British dramas reflect the elegance of the British and the sense of afternoon tea ceremony to the fullest.
Royal Albert was founded in 1896 and is a sub-brand of the famous British bone china brand Royal Doulton. Their products are based on the classic English country style. The rose is its specialty and is also the classic style of authentic English afternoon tea dinner china. Royal Albert was the favorite of Princess Diana of England during her lifetime.
This brand is known for the country rose series. The collection has been in production since 1962 and is still popular today. The classical and elegant style with the 22K gold plated rose pattern of the old English countryside has become a classic among many English tea sets. The gold-colored part of this teacup and teapot is lightly pressed and stained with a sponge.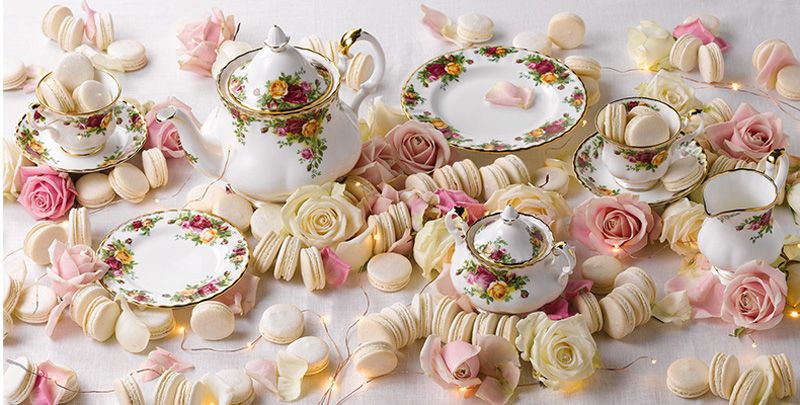 Royal Albert's bone china is said to contain about 50% powdered cow bone and is fired at as high a temperature as possible. That is why each bone china dish has high translucency.
Villeroy&Boch, Germany
Nowadays, when mentioning Villeroy&Boch, many people may think of bathroom products. But Villeroy & Boch, born in 1748, is actually Germany's number one ceramic brand, starting with ceramic tableware.
In more than 200 years of development, their products have covered a variety of ceramic products as well as bathroom products. And have a certain status and fame in the world.
Villeroy & Boch's tableware has a variety of styles, from traditional elegance and sophistication, to rustic romance and spontaneity, to modern simplicity. Although the style is varied, but the constant is the quality of Villeroy & Boch's ceramic tableware. Even after more than 200 years, it still stands the test of time.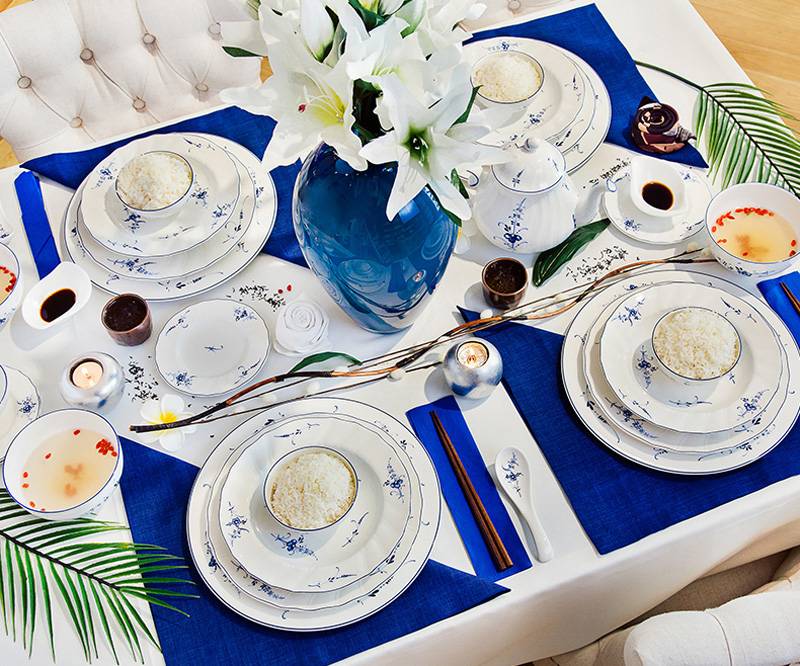 As far as vintage tableware is concerned, Villeroy & Boch's most collectible is the classic Luxembourg collection from over 200 years ago.
The French small blue branch decoration can bring nobility and elegance to the product. This is the elegant design that prevailed in the Baroque era.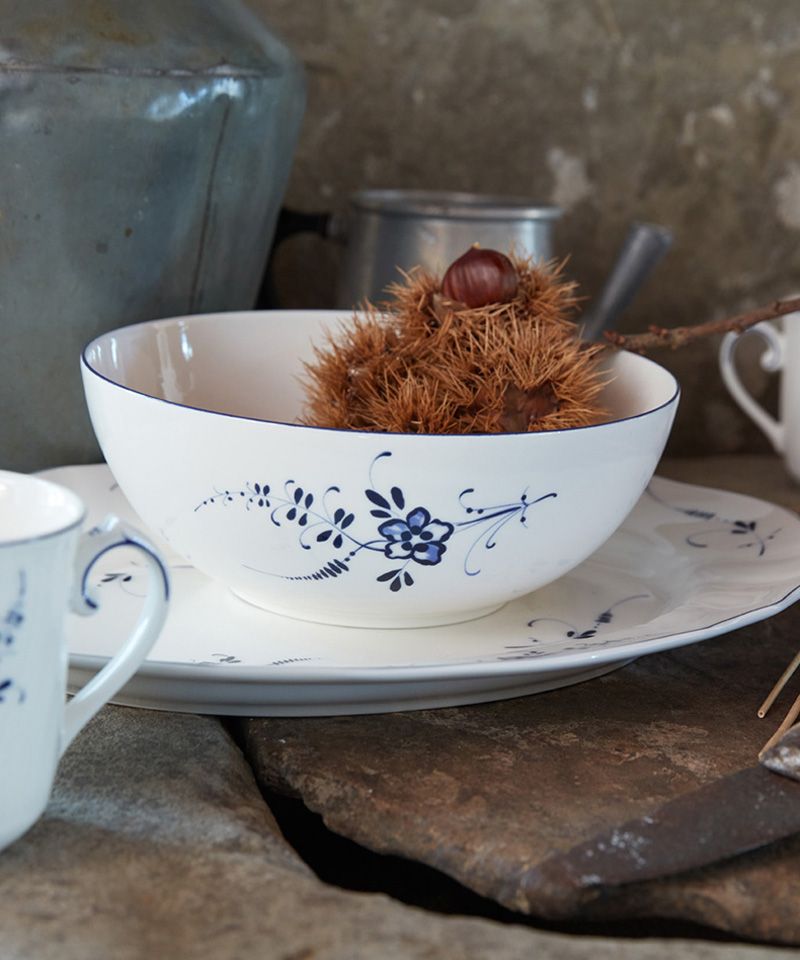 The popularity of this design is also due to Villeroy & Boch. This is because the Bauch brothers founded their pottery factory in Luxembourg in 1767. One of the first decorations they painted on their pottery was a small blue branch.
For their excellent ceramic quality, the Bauch brothers' tableware was awarded the "in Luxemburger Art" prize. The traditional tableware sets have been handed down to the present day and have already become a classic that cannot be reproduced.
If you also want your brand to live on for a hundred years, then choosing a quality supplier is a top priority. For example, Becasa Porcelain is a great choice. As a young porcelain manufacturer with over 20 years of manufacturing experience, they have been the appointed partner of many of the world's top brands and hotels. If you are also interested, please click here to contact them.