With the rapid growth of the restaurant industry, customers need a better overall experience when visiting a restaurant, not just quality food. Most customers taste the food with their eyes before they even take a bite. This is something we believe the vast majority of successful restaurant owners or chefs would agree with. On the other hand, this is also reflected in the increased use of Instagram and other social media platforms, where the most searched images are food and restaurant.
If restaurateurs can be mindful of how they present their food and use it intelligently, it can be a powerful tool to enhance the customer experience. So when you're thinking about improving your food presentation, getting the right ceramic tableware will be a crucial step. In this article, we will guide you through the process of selecting the right tableware for your restaurant.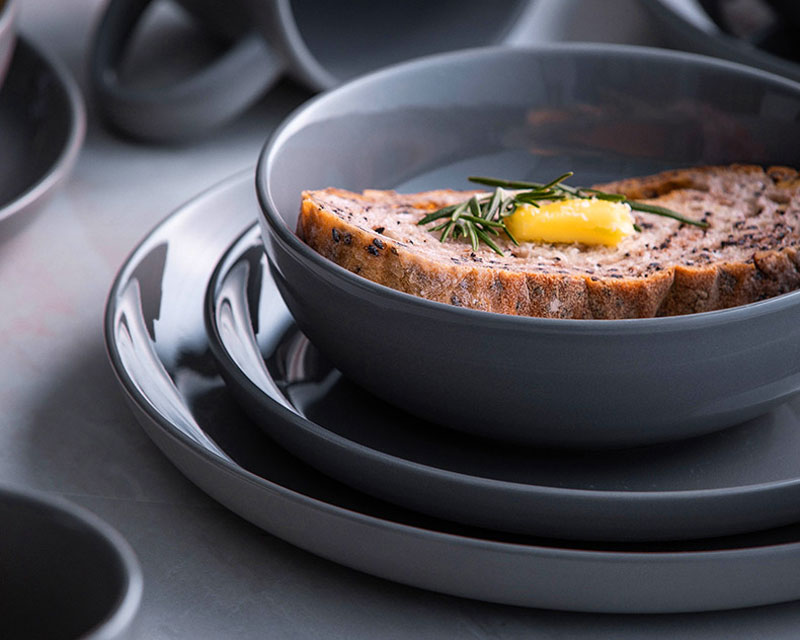 Have you considered these things?
When you decide to purchase tableware for your restaurant, in addition to you need to consider aesthetic factors such as size, shape, and style design. There are also practical factors to consider, such as the durability of the tableware, budget, etc. So we summarize some of the practical things you have to consider.
How long do you want your tableware to last?
Will the design of the tableware date quickly?
Do the shapes, sizes, colors, and patterns of your current tableware help you present your food in the way you want?
Do you currently have enough tableware to handle the current customer flow in your restaurant?
Do you want all your tableware to be dishwasher safe? Or do you want to hire an extra person to handle fragile items?
Does the fine cutlery in your restaurant fit on your current storage shelves? Or do you need more storage space?
Do you wish your dinner plates could be better insulated? Can you handle the heat from the oven and serving passes?
Are your current servers too heavy, too big, or too difficult to hold? Can your servers comfortably transfer plates?
What types of pottery are available?
Your tableware is an important part of creating the ambiance of your restaurant. That's why it's important for you to know the different types of pottery available so you can make better decisions when buying tableware. By the way, you also need to take your budget into consideration as well.
Porcelain
Made of clay, fired at high temperatures, and vitrified. The surface of porcelain is usually very smooth and has high brightness and whiteness. It can be heated at a temperature of 200-250°C. Suitable for dishwashers, freezers, ovens, and microwaves.
Bone China/Fine Bone China
Bone china is made by adding at least 25% bone meal combined with porcelain clay, which is fired at a slightly lower temperature than porcelain and then glassed. Although bone china looks thin, it is very strong and durable. It also has a very high degree of light transmission. Typically, bone china is safe for use in dishwashers, ovens, and microwaves. Bone china is also the most expensive material in pottery.
Stoneware
Stoneware is made of fine clay and fired at a temperature of 1180-1250°C. Stoneware can be glazed to obtain different finishes such as glossy, satin, and matte. Stoneware can be heated slowly to cook food evenly. Safe to use in dishwasher and oven.
New Bone China
New bone china is a new ceramic material that has emerged in recent years and is lighter in weight than porcelain. However, new bone china does not contain bone powder. It is made by increasing the calcium oxide content in the porcelain clay so that the ceramic has a certain degree of light transmission. The new bone china is stronger and has thinner walls than ordinary porcelain. New bone china is also dishwasher, oven, and microwave safe.
What kind of ceramic shapes are available?
Generally, there are 6 shapes of tableware to choose from. But if you have an original dish and want to showcase your food in a different way, you can create unique shapes by customizing the dinnerware.
Round
Round is the most common and enduring shape of tableware, which not only presents food beautifully but also makes it easier to store.
Coupe
The coupe shape is generally flat, slightly concave, and rimless. This shape draws the diner's attention to the food. This shape is commonly found in colored or textured porcelain and stoneware.
Square
Square-shaped dinnerware was once popular, but now it is considered somewhat outdated. The square plates are easily broken or cracked if bumps. And they are not easy to store. But square dinnerware is perfect for displaying Asian food.
Rectangular
Rectangular cutlery can be used to complement other shapes on the table and can be very striking, so it needs to be used with caution. However, rectangular plates can be suitable for certain specific dishes, such as sushi, and kebabs.
Oval
Oval-shaped dishes may have better results than round dishes when displaying certain foods, such as steamed fish. On the other hand, these plates are popular in steakhouses and Chinese restaurants. Note that these plates may not be suitable for some dishwashers.
Triangle
Triangle-shaped tableware is relatively rare, so this shape will be more interesting and eye-catching. It is more suitable for displaying food such as desserts.
What kind of pottery sizes are available?
How select the right size tableware is a headache for restaurant owners. So, how do you find the right size dinnerware? Generally, you need to consider a few factors.
The type of food you serve
The way you want the food to be presented
The serving size of food you serve
Obviously, different dishes require different sizes of plates. For example, appetizers are usually served on smaller plates than main courses. So, when selecting the right size plate or bowl, you need to have a basic understanding of their classification.
Classification of plates
Dinner plates
Side plates
Saucers
Bread and butter plates
Serving platters
Serving trays
Classification of bowls
Soup bowls
Pasta bowls
Cereal bowls
Serving bowls
If you want to know more about the size of each category of dinnerware, you can check our previous articles.
What kind of pottery colors are available?
According to a study by Oxford University, tableware colors act on the brain along with the quality of the food to produce a perception of good or bad taste. In terms of color science, food, tableware and the color of the environment around the meal can affect the mood of people when eating to varying degrees.
White
White pottery can make food look and even taste better. Apparently, white color can make the color and texture of food stand out more and make it look more inviting.
Black
According to a Cornell University study, darker plate colors create the perception of larger portions compared to white dinner plates. This changes the perception of serving size. Although black plates are not an intuitive choice, they can greatly enhance the premium feel of food.
Earth tones
Earth tones are warm colors, which are coffee, brown, beige, khaki, and other colors from the natural earth. These colors give people a sense of solidity and peace of mind. The dinnerwares with these colors are especially suitable for serving green vegetables and salads.
Morandi color
The soft tones of the Morandi color help to highlight the autonomy of the food, creating a rustic and vintage feel. The pottery with soft colors strengthens the connection between the utensils and the food. It can make you and your guests feel at home while enjoying a delicious meal.
Bright colors
Bright colors can better set off the freshness of the food and make people more appetizing. For example, yellow tableware can make people feel the desire to eat and can quickly increase their appetite. This is why kid's tableware has more bright colors.
Patterned Rims
If the edge of the plate can be patterned, it not only brings subtle movement to the food but also provides a great way to decorate the restaurant. But there is no pattern design under the food. Some patterns will extend over the entire edge of the plate, either with a theme or with texture. Different patterns and designs will complement different dishes or styles, highlighting the colors of the ingredients and enriching the texture of the food.
Variable glaze
Kiln-variable glaze refers to the unexpected glaze color that appears during the firing process of the object. With the addition of multiple coloring elements and high-temperature firing, the glaze will develop a variety of colors that are unpredictable. Variable glaze tableware can highlight the elegant quality of food, perfect for cold dishes. With the popularity of ins and various social media platforms, this type of tableware has become a must-buy item in hotels, restaurants, and even homes.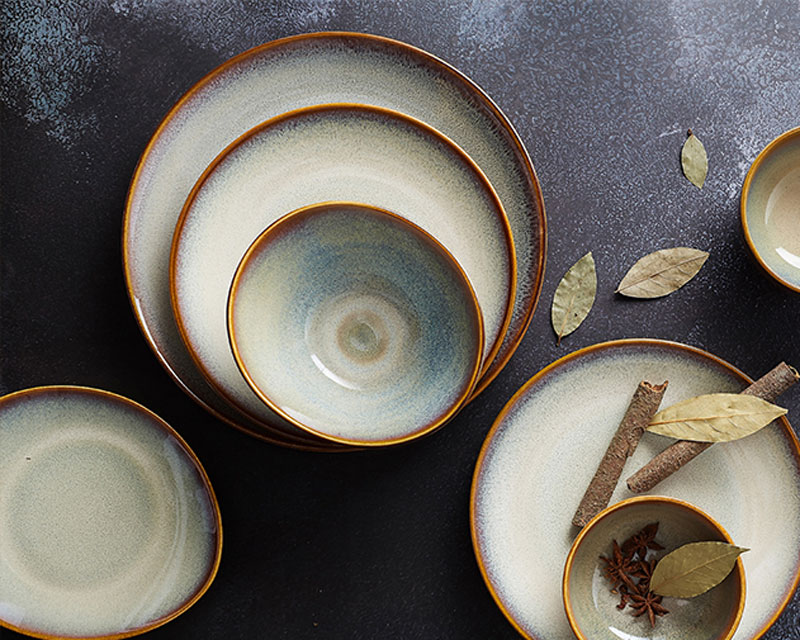 How much tableware should we have in stock?
Remember that utensils will be in different stages of use: on the table, on the plate, on the line ready to use, and even throughout the meal. So, if you are on a small budget, buy standard tableware that is at least 1.5 times the total number of guests. Such as dinner plates, soup plates, etc. But if your budget is more abundant, then we recommend buying tableware with 2.5 times the seating capacity.
How to make sure the design of your tableware doesn't go out of date?
No need to worry, careful design often transcends trends. Take Villeroy & Boch tableware for an example, many of their dishes are usually collected and passed on to future generations. This dinnerware elevates any meal, and it can even be pizza. In addition, it comes with years of nostalgia. If a quality pattern or design goes out of style, you can trust that it's only temporary.
How to make tableware reflect the values of your restaurant?
Your restaurant may not be all about the food. So what values will attract your customers and keep them coming back for more?
Ethical Production
If you source ethically produced produce, then you can reflect this in your choice of pottery. Like Becasa Tableware Manufacturer has a large selection of interesting and ethical home furnishings.
Sustainability
Please cook with products that are environmentally responsible and think sustainably when it comes to tableware and cookware. For example, wooden items can be used instead of plastic. So please make sure that tableware is also recyclable (e.g. corn or cork coasters) or made of more sustainable materials (porcelain, bone china, stoneware).
Get familiar with the local
You source all your materials from your local farmer's market, so why don't you source your tableware in the same way? You can find out who is making the designs you like and see if you can commission a set. Probably this will be expensive and take a long time. But it's worth it.
Or you can work one-on-one with a tableware manufacturer who knows your area's style, then you'll end up with dinnerware that you really like and that is more in line with your aesthetic as well.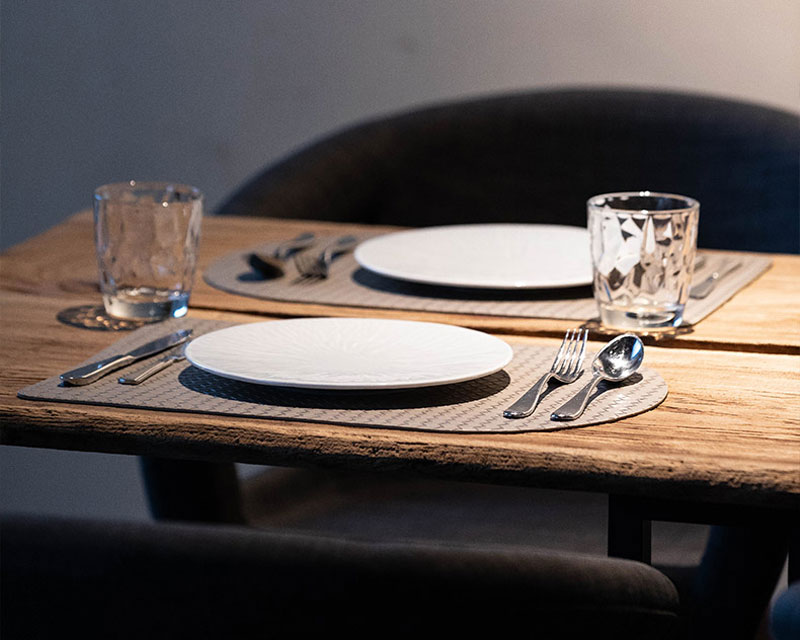 Tabletop shopping list of restaurants
Besides pottery, actually, you have a lot of other things to buy. Here we have compiled a tabletop purchase list of restaurants for your reference.
Plates
Dinner plates
Side plates
Saucers
Bread and butter plates
Serving platters
Serving trays
Bowls
Soup bowls
Pasta bowls
Cereal bowls
Serving bowls
Knives
Dinner Knife
Steak Knife
Luncheon Knife
Fish Knife
Dessert Knife
Butter Knife
Fruit Knife
Spoons
Teaspoon
Tablespoon
Place spoon
Soup Spoon
Dessert spoon
Sundae Spoon
Fruit Spoon
Forks
Dinner fork
Salad Fork
Forks with extra-long tines
Dessert Fork
Fish Fork
Seafood Fork
Teaware
Mugs
Coffee cups
Teacups
Pitcher
Egg cup
Drinkware
Burgundy Wine Glass
Pinot Noir Glass
Bordeaux Glass
Cabernet Sauvignon Glass
Standard Red Wine Glasses
Tabletop accessories
Napkin
Tablecloth
Flatware storage rack
Table mat
Vase
Candle holder