Choosing the Right Type of Vase Shape & Style
" If you're interested in how best to arrange your flowers and what type of vase to use, Becasa already created this simple guide for you."
There's no doubt that a bouquet of fresh flowers can really boost your mood and lift the freshness and ambiance of a room. If you're interested in how best to arrange your flowers and what type of vase to use, we already created this simple guide for you.
Ideally, when choosing a vase for your flower arrangement, the best idea is that the flowers be one and a half times the height of your vase.
Choose a bud vase for short-stemmed flowers, or flowers with smaller blooms.
Don't overcrowd the vase, small and simple arrangements with one or two flowers are best suited for bud vases.
Add interest and texture to your bud vase arrangement with branches and foliage.
Bulb vases have a unique bulbous bowl and narrow, tapered neck, ideal for growing bulbs, but are also a versatile vessel for different kinds of flowers.
Hyacinth and Crocus bulbs can be force-grown in a bulb vase.
Daffodils and Asteraceae can create a beautiful and delicate spring bouquet, ideally shaped for a bulb vase.
Fresh flowers are best. Find a local grower for the freshest seasonal flowers that will look amazing and last much longer.
A column vase is ideal for showcasing a single type of flower, or for mixing and matching a palette of your favourite colors.
Choose long-stemmed flowers to make the most of the height of a column vase.
Mix smaller blooming flowers amongst large blooms for interesting depth.
Column vases are perfect for creating large floral centrepieces for your table.
Round vases are perfect for creating a 360° display of blooming flowers, showcasing the very best of large blooms.
Arrange roses in a circular pattern in a round vase. Once fully opened, they'll create a globe of blooming color.
Long branches, greenery, and foliage can add interesting texture to a bouquet in a round vase.
Don't forget to cut the flower stems so that they are one and a half times the height of the vase.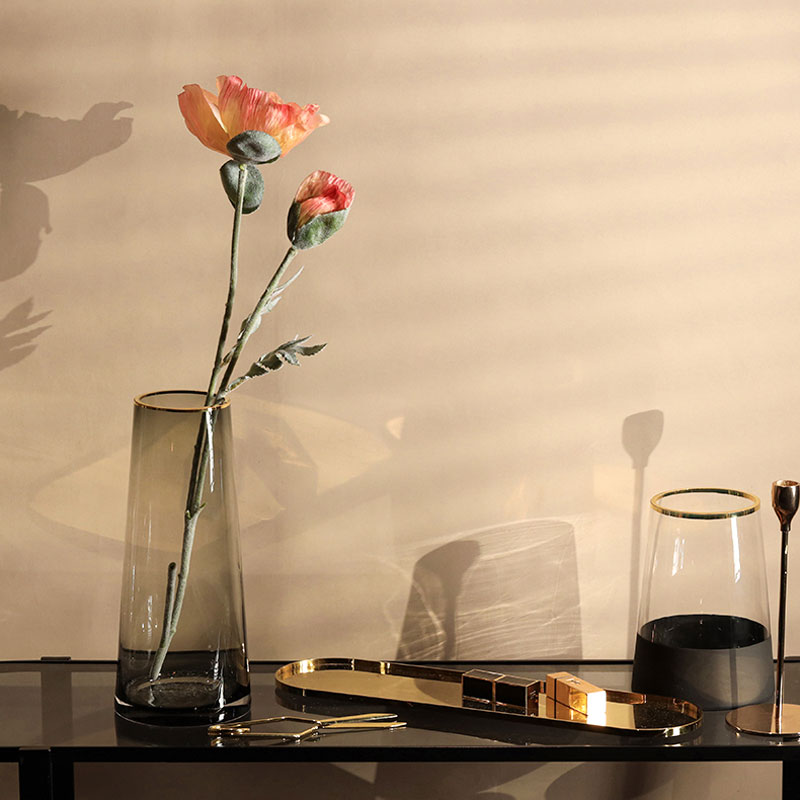 Tall vases are the perfect shape for making a no-fuss flower arrangement with minimal effort.
Choose a few of your favorite flowers and showcase them in a tall vase for a simple and organic look.
Cut at least an inch off the stems at a 45-degree angle as soon as you can. This gets the water flowing into the stem again and keeps the flowers fresh.
Trim any greenery off the flower stems that will be below the water line in the vase, and don't forget to change the water in the vase every 2-3 days.