A decorative object in its own right, the table lamp fulfills both a lighting function and a decorative function. It is a must-have in terms of lighting because its small size allows it to be installed in practically any room in the house. For example, a bedside ceramic lamp for your bedroom, a portable lamp for your garden, or a desk lamp for your library, the choices available from your side is very wide. On the other hand, there are kinds of styles, materials, or shapes available. The table lamp is a must to accessorize your interior, it's a bit like the handbag of your outfit. In other words, it comes to bringing the final touch!
On the market, there are many brands of ceramic table lamps to choose from, such as HNXNR, ZQH, Amter, The Becasa, and many more. But how do you know which one is the best? We're here to help you choose the ideal stoneware lamps with our handy buying guide.
What types of table lamps are available?
Generally speaking, table lamps can be divided into functional table lamps and decorative table lamps.
Functional table lamps
The lamp type is simple and lightweight in design, and generally, this type of table lamp is used for reading and writing. It makes us more comfortable when reading by adjusting the height of the lamp stem, the direction of light, and brightness.
Decorative table lamp
Luxurious in appearance and more diverse in material and style. The material can be ceramic, wood, or even brass, etc. So this kind of table lamp usually serves as an accent space.
Today, the decorative nature of table lamps has become as important as the functionality of lighting.
What styles of table lamps are available?
Table lamps are very practical in everyday life, but that doesn't stop them from being stylish and becoming a real decorative piece. There are many different styles of table lamps on the market and the most important thing is to choose the one that best suits your room.
Therefore, the choice of a table lamp will be based on your interior decorating style, the room you wish to install the touch lamp in, and your personal taste.
1. Modern style table lamp
For modern design interiors, table lamps are usually made of metal, ceramic, glass, or bronze. Especially with ceramic table lamps, this type of lamp can enhance the artistic feel of your room. Whether it's a pastel-colored stoneware body, or a delicate relief design, or even a stunning glazed finish. The variable of ceramic table lamps can be perfect for creating a modern chic charm in your living room or hallway.
2. Vintage style table lamp
Usually, this style of table lamp is mainly made of iron or ceramic. The iron material will enhance the vintage feel by making an old style, while the ceramic table lamp will have a smooth dark finish or a retro pattern design. Vintage-style table lamps are perfect for putting on the side of a living room sofa.
3. Classical style table lamp
If you have strict requirements for the shape of the lamp body or the surface pattern, then you can focus on classic-style ceramic table lamps. No matter the urn shape, classic blue and white, floral patterns, or even hand-painted patterns, they always offer you a more formal look. Perfect for a study or bar.
4. Rustic sentiment style table lamp
If you are also looking for a rustic-style table lamp to decorate your interior, this table lamp is undoubtedly the best choice for you. The earthy color scheme and the body of the lamp with flecks of bare clay are good for creating a rustic environment. They are also perfect for placing in your living room. This series of ceramic table lamps, their ceramic body can also be with the preparation of rattan, rope-shaped nostalgic design.
5. Minimalist style table lamp
This style of the table lamp is commonly found in Japanese-style interiors, mainly in ceramic material. Lamps with clean stripes, geometric patterns, or a light color palette are ideal for minimalist interiors. Both functional and decorative in nature, these lamps can be placed in any space in your home.
The ceramic lamp you worth
Becasa Ltd has been specializing in creative ceramic home collections for over 20 years in a variety of crafts. Here's Becasa Ltd's new ceramic table lamp collection! We can't wait to share it with you!
Mountain white stoneware wall-mounted lamp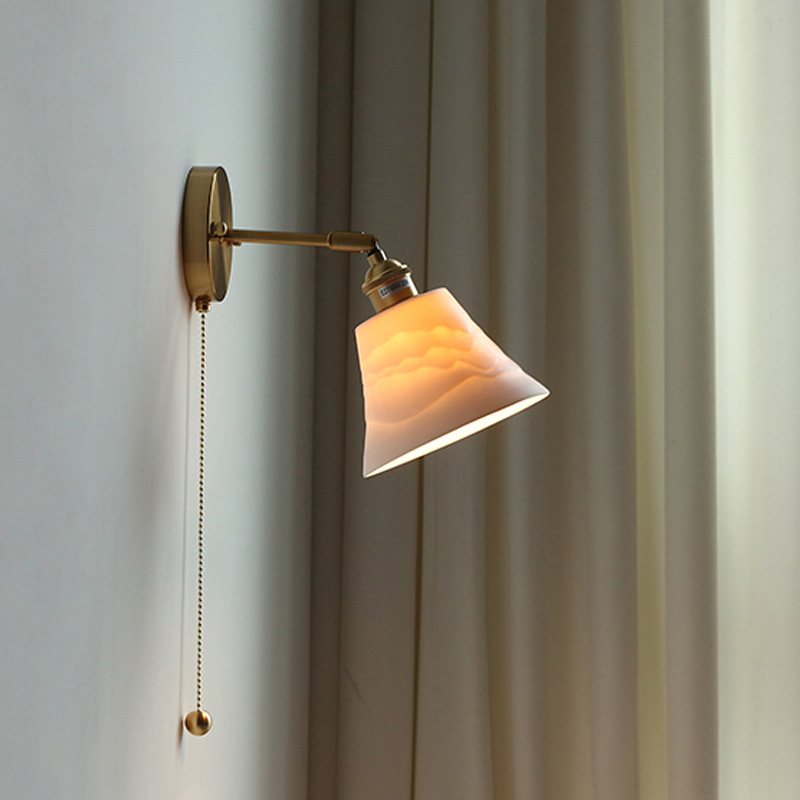 This modern-style ceramic lamp will add a different touch to your bedside or hallway. Its shade is made of stoneware material and the base is made of brass, making it easy to care for and durable. The lamp shade has concave and convex mountain stripes and a continuous bead-style zipper switch for antique elegance.
Rising sun ceramic ceiling lamp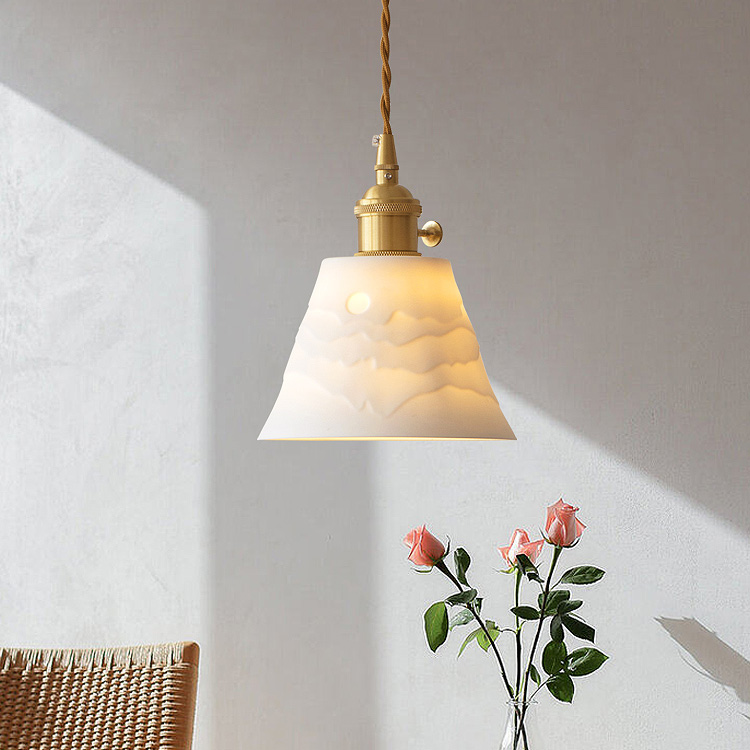 Scandinavian-style ceramic lamp, perfect for the dining room or next to the TV cabinet. The creamy white ceramic shade combined with brass fittings is classically elegant. The moment you turn on the light, it is like lying in bed and enjoying the sunrise, turning the atmosphere of your home into a warm and romantic one.
Tarsus feather ceramic table lamp
This light luxury style ceramic table lamp not only provides bedside lighting for your bedroom, but also enhances the overall style of the room. The goose feather lampshade hand-woven by workers is white and flawless. The lamp body is made of high-temperature fired porcelain, which is durable. In addition, this ceramic lamp also supports multiple brightness adjustments and multiple color temperature adjustments.
Ball shape white ceramic table lamp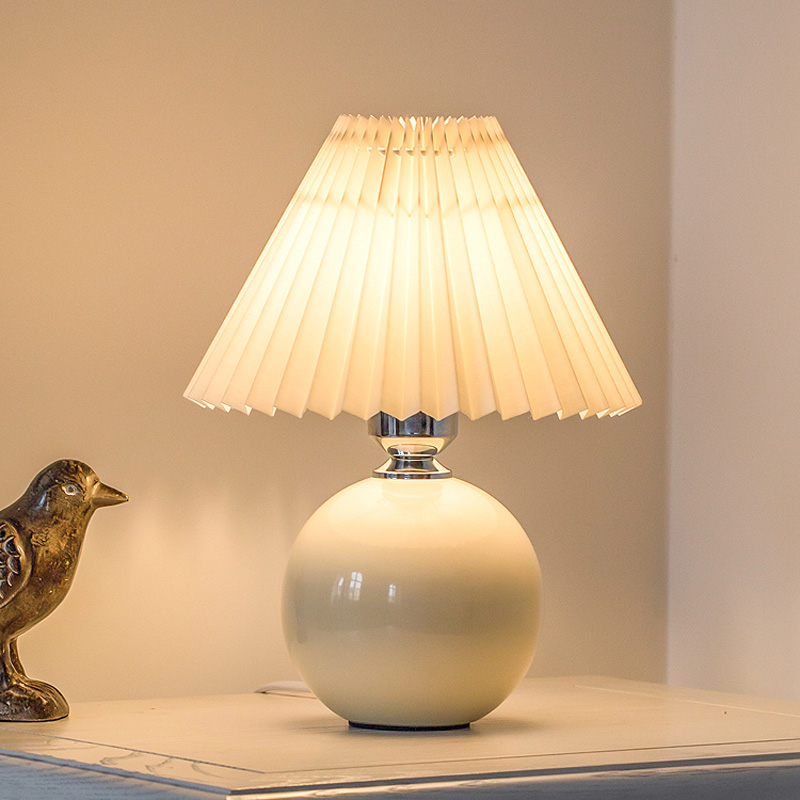 Timeless pleated lampshade design with high temperature fired stoneware body. This minimalist aesthetic ceramic table lamp emphasizes the purity and simplicity of the spatial environment. It is excellent in the bedroom or on the dining table. Oh, yes, this ceramic table lamp is also available in a variety of colors, such as dark green, yellow, and pink.
Hurry up and create something stunning in your home decor with Becasa Ltd's range of ceramic table lamps. Discover more options in becasaltd, we also support customization, please click here and contact us.