When you're going to throw a dinner for your friends, we have an idea that you can try to cook the crispy chicken thighs with potatoes and lemon. No long cooking time, simple ingredients, and few steps make it perfect for sharing with your friends or making at home for the family. The butter brings out the juiciness of the chicken thighs, and the crispy potatoes enhance the layering of this whole dish.
INGREDIENTS
2 chicken thighs
1 potato
White wine 50ml
3 cloves of garlic
Half a lemon
1 sprig of rosemary
Butter
Olive oil
Salt and pepper
STEPS
Step 1: Cut each chicken thigh into 4 pieces, marinate with salt and pepper for 1 hour, and cut potatoes with skin on into thick strips.
Step 2: Pour 1 tablespoon extra-virgin olive oil into the pan, chicken skin side down, and fry the potatoes together for about 5 minutes, turning the chicken thighs over when the skin is crispy.
Step 3: Add the rosemary and butter to the pan and keep pouring the broth over the surface of the chicken fillets with a small spoon for 3-5 minutes.
Step 4: Hold out the potatoes and standby.
Step 5: After the potatoes have been held out, add the minced garlic to the pan and sauté, then add the white wine.
Step 6: Squeeze the lemon juice into the pan, add a small piece of butter to help thicken the sauce, and season with salt and pepper.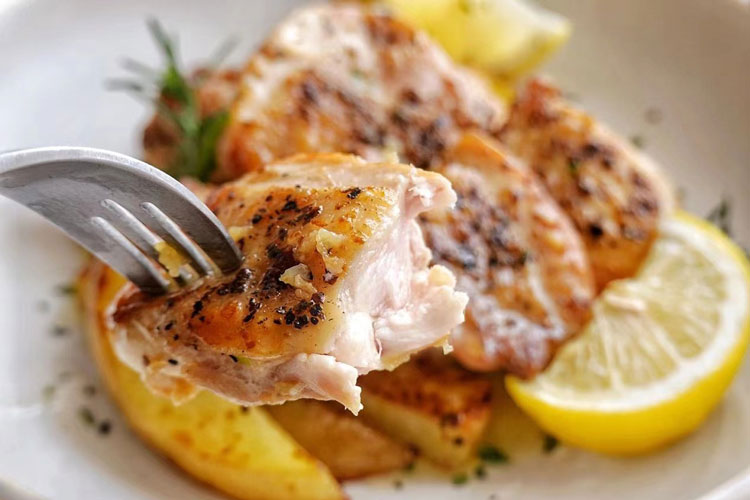 PLATING TRICKS
Plate the potato strips on the bottom, stack the chicken cutlets on top, and spoon over the butter lemon soup in the pan.
It is best to use plain white or black stoneware plates to make diners more appetizing.
TIPS
This dish is relatively simple, but it needs to be freshly made and eaten at once. Only that, you just can enjoy the deliciousness of this dish. The second thing is that the butter should be fragrant enough, because this dish is simply seasoned, and it is more about the freshness and original flavor of the ingredients themselves. Therefore, we used Candia's butter, an old brand from France, which is full of lactic fermentation aroma, and the chicken fillet was fried out with a creamy aroma, which enhanced the taste level of the whole dish very well.