There are a number of different whiskeys in the world. All these varieties make it possible to create a multitude of whiskey-based cocktails, to combine malted barley with all kinds of flavors in cocktails of classic or more exotic inspiration. Here are 4 must-have whiskey cocktail recipes.
Composed of malted barley, water, and yeast, whiskey can be combined with many flavors: apple juice, strawberry juice, Schweppes Original Tonic, liqueurs, and other equally distinguished alcohols. We give you all the keys to making perfect whiskey cocktails with these 4 whiskey cocktail recipes. Even at home, you can also make it perfectly.
Pineapple Whiskey Sour
If you like the taste of freedom, then this cocktail recipe may appeal to you.
Ingredients
Pineapple pulp 90g
Pineapple sauce 1 tbsp (optional)
Pineapple syrup 10ml
Half a lemon
Naked Bird Whiskey 30ml
The appropriate amount of ice cubes
1 slice of dried pineapple
The prep time needed for this cocktail? Estimated to be about 1 minute. To start this cocktail, firstly cut the pineapple into small pieces. Then add ice cubes, 10ml pineapple syrup, l tablespoon of pineapple sauce, 10ml of whiskey, and 20ml of lemon juice in order in a shaker glass. Shake the shaker well for about 10 seconds and add ice cubes to the whiskey glass. Finally, strain the contents into the glass and arrange dried pineapple as garnish. Well, your whiskey cocktail is ready, all you have to do is taste it!
Grapefruit Whiskey Sour
This is a whisky cocktail with fruit. It is both simple and fresh, and also perfectly satisfies whisky lovers.
Ingredients
Grapefruit pulp 90g
Grapefruit syrup 10ml
Naked bird whisky 30ml
An appropriate amount of ice cubes
Half a lemon
1 small piece of grapefruit
Here's how to properly prepare this cocktail. First, we put the grapefruit pulp into a shaker and mash out the juice. Then add 6-8 ice cubes, 10ml grapefruit syrup, 30ml whiskey, and 10ml lemon juice to the shaker glass. Next, stir with a stirring spoon for about 10 seconds, and then shake the mixer for about 10 seconds. Finally, strain the contents of the shaker into the glass. But before tasting, you can add a small piece of grapefruit cubes as a garnish.
Lime Whiskey Sour
If you crave a whiskey cocktail that is slightly fruity but not lacking in personality, then the lime cocktail recipe may be for you.
Ingredients
4 slices of Citron
Jasmine tea 30ml
1 lime
Whiskey 30ml
Sea salt syrup 20ml
The appropriate amount of ice cubes
1 lemon leaf
This whiskey cocktail can be made in less than 1 minute. Firstly put the citron slices into a shaker and whack out the lemon juice. Next mix 30ml of tea broth, 15ml of lime juice, 20ml of sugar syrup, and 6-8 ice cubes, then mix slightly with a teaspoon. When the sugar dissolves, add 30ml of whiskey and shake the mixer vigorously for 10 seconds. Finally, strain the contents of the mixer into a glass and finish with a lemon leaf garnish.
Violet Whiskey Sour
Actually, this cocktail turns out to be designed for couples' parties, but you can also sip it at any time of the year.
Ingredients
Grape juice 70ml
Violet syrup 10ml
Whiskey 30ml
The appropriate amount of ice cubes
Half a lemon
Oolong tea 30ml
1 purple daisy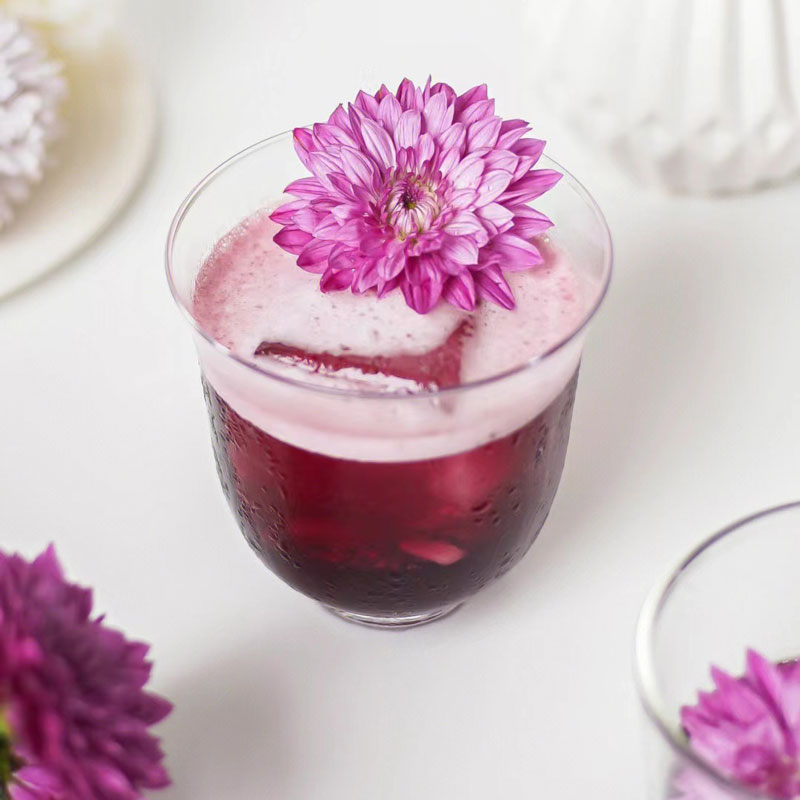 Do you want to know how to make this cocktail? Actually, this cocktail is very easy to make, first put ice cubes in a shaker. Firstly, mix 30ml tea broth, 70ml grape juice, 10ml sugar syrup, and 30ml whisky directly. Secondly, stir with a long spoon for 10 seconds, then shake the mixer for 10 seconds. Finally, strain the liquor into the whisky glass. The final touch? Garnish with a purple daisy!
Tips
1. In these recipes, we use the capacity of the glass as 300ml, and the diameter of the ice cube is 2.5cm
2. Cocktails with higher juice content are more suitable for girls, so girls can increase the amount of fruit according to their preferences
3. In These four cocktails, we use naked grouse whiskey as the base. This whiskey can be mixed with seasonal fruits blend well, and bring a richer taste.
4. The universal cocktail formula you can use anywhere: 30ml whisky + 50g ice + 80-100g fruit juice + 10-15ml syrup + 25ml lemon juice