With the pursuit of beauty and the improvement of quality of life, flower stores seem to have become the second place that girls like to visit besides clothing stores. If you can put a bottle of flowers in your home every week, it can also bring life and vitality to the week's life. This time we are sharing the most popular styles of vases in North America this year, and where and how you can buy them for the best value.
Byon shell vase
This vase is from the ByOn brand and the design of this vase shell draws its inspiration and touch from shells. It makes Shell a vase that feels lively and expressive. The stylish design makes the vase suitable for most styles and settings and is perfect for pairing with some long-stemmed striped flowers. You can purchase this vase directly from Royal design.
Create & Barrel Merriman Black Vase
A modern matte black glaze emphasizes the simple beauty of this curvaceous vase. Earthenware vessels with handles designed by Leanne Ford provide a streamlined look to the classic gourd vase. Not matter as a display filled with fresh plants, alone as a sculptural piece, or paired with the coordinating Full Moon Vase, it is finished in clay tones. You can buy it on Create & Barrel when there is a 20% rebate on your credit card or a 15% discount.
Becasa Romance Glass Vase
The Romance vase comes from Becasa Houseware, a light pink color, that has both a classic softness and modern simplicity. It looks great with either a small bunch of daisies or a single bright rose. Becasa has a wide variety of other vases available for purchase, both ceramic and glass, each of which is a Netflix model that is often out of stock. The store regularly does some special offers, you can subscribe to their Instagram or Facebook to get the latest information.
HKLiving Speckled Clay Vase Angular
This vase combines two great qualities. It's made of speckled clay and created in a fun design. Perfect to show off beautiful flowers but strong enough to make a statement all by itself. The serene white with tiny speckles makes this a very modern item that will add class to your interior. You can directly buy on HKliving.
Cooee Pillar & Ball vase
The Pillar vase from the Swedish brand Cooee Design is a vase that will give a great deal of charm and character to your interior. With an elongated straight foot and a spherical top, the vase has a highly original yet definitely stylish look. Every Pillar vase is handcrafted, which means each piece is entirely unique. Even the surface itself has been painted by hand to give it a soft matte finish, a hallmark of Cooee vases. You can also buy it at Nordicnest.
DBKD Rope Vase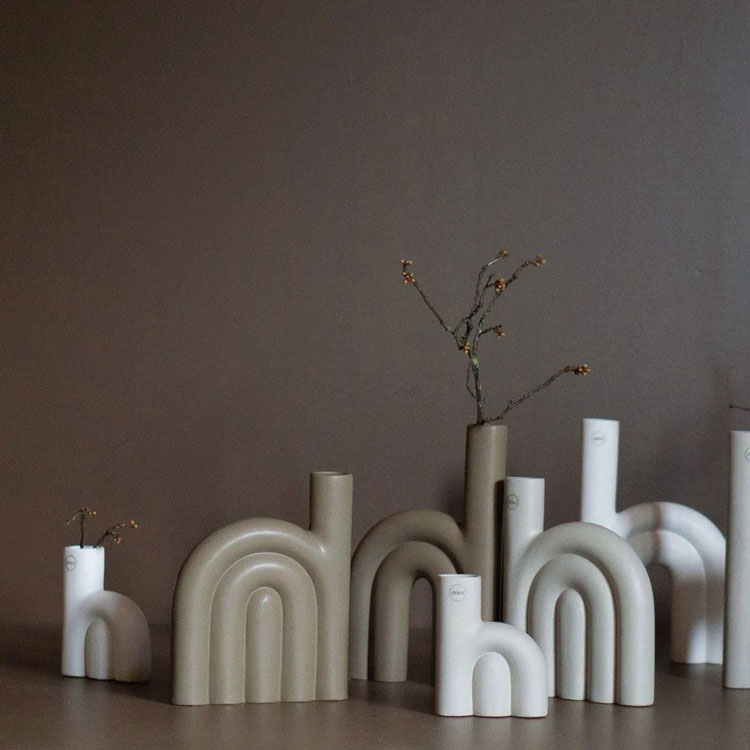 The Rope vase large from the Swedish brand DBKD is both a practical and beautiful interior detail. Pair it with flowers or let it adorn the bookshelf on its own for a stately design indoors. Plus it looks great when combined with other pieces from the same collection. This distinctive vase is sure to emerge as an instant conversation topic over dinner for all who have the chance to admire it. You can also buy it at Nordicnest.
Homegoods Vase
Homegoods has a wide variety of brightly colored and shaped vases, so you can always get the vase you want here. Whether it's the 11in Glass Vase or the 30in Glass Vase, even a dead branch can add to the mood of your home.
IKEA PÅDRAG
Ikea's vases are both cheap and useful, such as this PÅDRAG vase. PÅDRAG vase has a round and elegant shape with a clean design that makes it easy to combine with other products. Moreover, the pattern adds character to the vase and vibrantly reflects light.
Of these vases, which one do you like the most? Welcome to leave comments below.