Opting for a blue and white plate, whatever its size, will bring elegance and modernity to your table, whether for a family meal or a special occasion. Indeed, blue represents freedom and white represents purity. You can opt for blue and white dinnerware for everyday use to brighten up your meals. In this case, choose materials that are resistant to frequent washing and possible shocks. For more special occasions, it's time to bring out a chic and trendy service in noble materials such as porcelain or stoneware.
The blue and white dinnerware can be adopted for many uses
Plates are at the heart of our kitchens and are used every day. Whether for daily or occasional use, each plate has a specific purpose. Hollow, plate, or dessert, your meals will have appropriate dishes. If the round plates are the best known, they are reinvented and are offered in rectangular or square format, as in restaurants, for an original presentation.
Finally, the blue and white dinnerware can also be used as decoration! Why not divert the use of this object in order to give it a new life? A large hollow can become a fruit basket to display in the center of your table. Plates of different blue and white can be placed on small easels on your kitchen shelves.
Camellia means humility, ideal love, and purity. Our designer Laura Itkonen took inspiration from the camellia flower. And designed the collection Camellia based on vintage porcelain shapes with blue and white tones. The porcelain dinnerware in this collection is fired at 800°C plain and then at 1350°C, making it very strong and durable. In addition, the blue and white dinnerware set of this Camellia series also uses the underglaze process, which is completely safe for food contact. Microwave, dishwasher, oven, and refrigerator safe.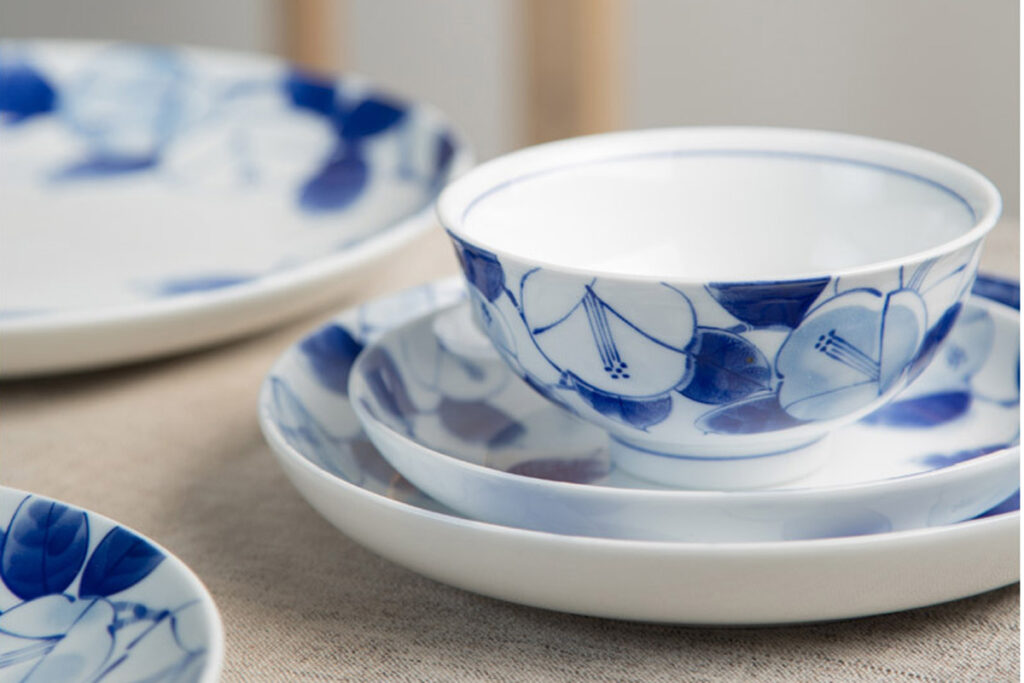 Sakura & Maple blue and white dinnerware
The sakura symbolizes spring, while the maple leaves symbolize autumn. The designer of Becasa Ltd was traveling in Aichi Prefecture when he came across the sakura and maple leaves in the four seasons. The rosy pink and the passionate fire red are intertwined to form an incomparable beautiful sight on earth. Thus, the Maple & Sakura collection was born. The porcelain in this series is made by the underglaze process and is fired at 1350°C, making it strong and durable. In addition, this Maple & Sakura plate can be perfect for ramen, cold noodles, cold food, etc.
Lotus blue and white dinnerware
The Lotus range has a fluted finish, which is then covered with transparent enamel. While ensuring the beauty of the tableware also ensures easy cleanability. Lotus range of porcelain bowls, its' outer wall of the groove pattern design. In addition, its' inner wall also uses the underglaze pattern design. With a thick feel, the entire porcelain is like a work of art. Most importantly, the lotus pattern design of this series adopts a vintage style, rustic and elegant. If you are also interested in this dinner plate, you can click the link above for more details.
Hoist blue and whiter dinnerware
Vintage ware with vintage watercolor patterns, if you like this vintage style too, the porcelain dinnerware from the Hoist range is definitely for you. The vintage, muted pattern in timeless, shades of yellow and blue goes perfectly with any dish. Everything in the Hoist range, from the dinner plates to the bowls, is strikingly simple – thanks to their turned lips, soft curves, and perfectly glossy finish. "This porcelain dinner plate is a collector's item, and you'll hesitate to use them," says designer Nigo. "Why disturb something so beautiful?"
Wisteria blue and white dinnerware
If you're looking for a beautiful set of plates to serve sushi dishes at your dinner party, it's hard not to be drawn to this Wisteria porcelain dinnerware set. Their simple look and crisp blue color give them "an organic feel and go well with a variety of décor styles," says Luna of the design. Plus, in addition to being microwave and dishwasher safe, these are rare porcelain dinnerware that is also oven safe.
Vigne blue and white dinnerware
The idea of reserving dinnerware for a special occasion may be a bit old-fashioned, but it shows the host's attention to their guests. When someone says it's time to bring out the fine china, the Vigne set from Becasa Ltd may be just what you had in mind. This beautiful, high-gloss underglaze dinnerware makes every family gathering a celebration. These minimalist design pieces feature organic rim and bottom details. Exude artistic center stage without compromising the thoughtful design that allows for dining. A lot of clients will fall in love with this blue and white dinner set.
More Dinnerware Sets You Should Consider
While the above picks represent a curated edit of the best new and enduring classic dinnerware sets, we've come up with a lot of great dinnerware recommendations. We think we'd be remiss if we didn't share them. In the following, you'll also find a few less expensive plates here or there. Even some rarer options. For example, if you want to feel like New Year's, but need a Japanese style.
Lythrum makes classic, affordable dinner sets in a pretty, soft blue. The simple lines, which appear to radiate, allow each dish to take center stage on the plate. We really like the porcelain material of the Lythrum set and the wavy edge design of the Lythrum plates. On the other hand, after our trial and error, all Lythrum plates proved to be able to handle both regular use and the dishwasher cycle.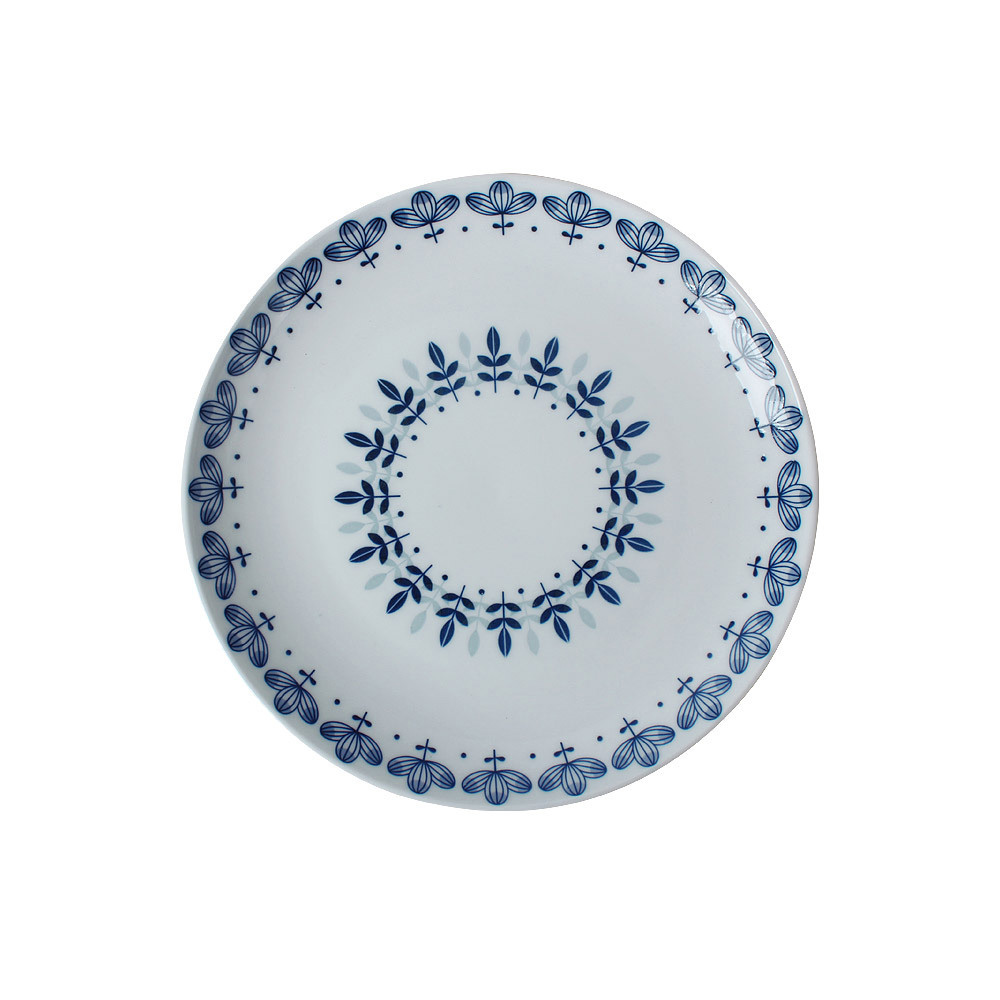 At home, Chef Barry often uses the stackable plates from The Becasa's "Rattan" collection. These plates have a smooth white finish and a simple blue-and-white pattern. "It's a charming combination," Barry says. "If your style is more Scandinavian, this dinnerware set definitely has the modern and organic shapes you want."
Festuca's porcelain dinnerware is distinguished by its rich glossy glaze and pronounced striped edges. All of Festuca's plates are great, but our favorite is the small bowl. This small bowl is elegantly designed with two striking blue stripes on the inside.