Stoneware is relatively less known than porcelain and yet it is a material from the same family as the latter, ceramics. In other words, stoneware plates are made with terracotta, more precisely clay highly charged with silica. Firing at around 1250°C vitrifies the surface of the stoneware, an operation that not only marks the aesthetics of the material but also its resistance. Delicately placed on your tablecloth, the stoneware serving platter will bring an original cachet to your decor.
How to shop serving platter?
To help you find something that's both beautiful and functional, Arthur, founder of Becasa Ltd, says it's essential to consider the pros and cons of the materials you're getting. For example, stoneware dinnerware is great for most people. Because it's a thick material, it can be washed in the dishwasher. However, when you eat with metal flatware, it will make for a noisy meal. In addition to this, you should also be concerned about how easy it is to stack your flatware and try to exclude most square or wavy plates.
Can I choose a stoneware serving platter in colors?
If you want to highlight authenticity in your decoration, raw stoneware tableware is made for you. These models elegantly reveal the beautiful imperfections of craftsmanship. In this case, the plates are offered in sober tones: grey, beige, off-white, etc. To reconcile tradition and modernity, rely more on enameled stoneware plates. These are available in an infinite number of colors and patterns. Vibrant solid color, very pop polka dot plates, or ultra-contemporary graphic patterns, the choice is yours.
Different styles of stoneware serving platter of 2022
The best stoneware serving platter for baking: Mod collection
This stoneware serving platter is part of the Mod collection. The one-piece loop handle design makes the platter easier to carry and transfer. In addition, this platter not only displays food beautifully, but also can be easily mixed and matched with other tableware in the collection. Whether it's an appetizer or a side dish, this platter will work perfectly. You can also find some same designs in William-Sonoma.
The best rustic style stoneware serving platter: Bigear collection
This stoneware serving platter is part of Bigear collection. The collection is filled with rustic plates, bowls, storage containers, and teapots. If you want to subtly show off your taste but don't want to spend too much money on waste, this collection of dinnerware is totally for you. The durable stoneware material makes it stay with you for a longer time. Oh, yes, it can serve anyone.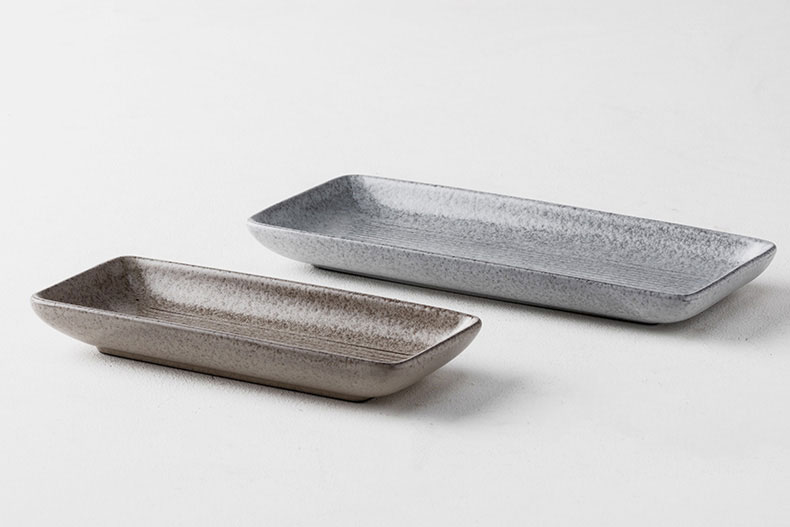 The best vintage style stoneware serving platter: Jing collection
The Jing collection is inspired by an understanding of Chinese Zen. The Japanese ware design combined with the delicate keel gives this dinnerware a rustic texture. All of the tableware in the Jing collection is available in a beautiful, shiny matte finish. If you also prefer a softer color option, then this exquisitely detailed stoneware serving platter will definitely meet your everyday needs. It also makes a good distinction between traditional dinnerware sets and more modern tableware.
The best Japanese style stoneware serving platter for Sushi: Mortin collection
If you've ever eaten at a Michelin-starred Japanese restaurant, chances are you've seen this Mortin collection of the platter. The range of Mortin tableware is not only sturdy and durable but stylish as well. In addition, the Becasa Ltd manufacturer who offers this collection of tableware also offers a customization service. If you want your restaurant to have a unique set of tableware, then click here to contact the ceramic tableware manufacturer of your choice. Mortin stoneware serving platter's solid color scheme gives a sense of "life" to the food and can be used in a variety of restaurant décor styles.
The best dessert stoneware serving platter: Dx streamer
The Dx Streamer features a unique square shape design combined with the most popular variable glaze technology of the moment. The Dx Streamer stoneware serving platter can be used not only as a serving platter, but also as a dinner plate. This serving platter is perfect for displaying desserts, especially those in cool colors.
The best dinnerware plate for the modernist: Moonsea collection
All the tableware in the Moonsea collection has the same design as the surface of the moon, which we call "Moonsea". This is also the source of the design of this collection. The collection was highly recommended by the talented chef Christian Le Squer, known as the "composer of delicacies". This stoneware serving platter has a matte glazed rim and a glossy glazed bottom, perfect for serving gumbo or pasta.
If you want to buy a Moonsea dinnerware set, we recommend dinner plates, flared small plates, flared cereal bowls, and noodle cereal bowls.
More stoneware serving platter you should consider
While the above picks represent a curated edit of the best and most enduring classic dinnerware sets. But there are still so many great dinnerware recommendations that we'd be remiss if we didn't share them. Next, you'll also find some interesting and less expensive platter here, with the possibility of even more rare selections to acquire.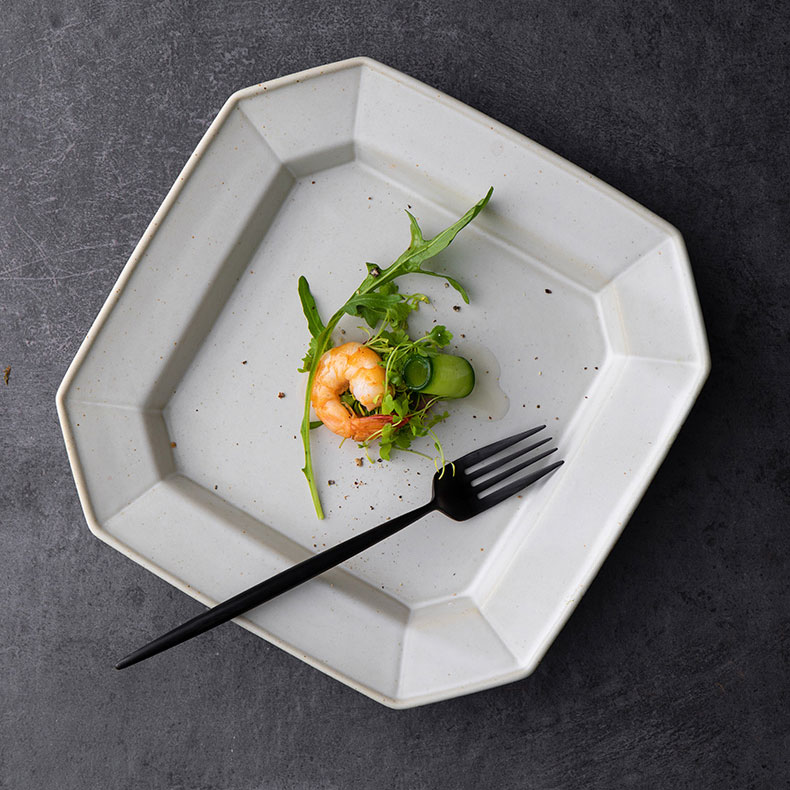 This platter has made a splash in the Japanese culinary world with its unique octagonal design. The high quality of this platter is pleasing to the good eye, and it feels very thick in the hand with a thick rim. They also offer round plates as an option in this collection.
If you are still looking for a plate that will serve seafood dishes at your dinner party, then you will be hard-pressed to be attracted to this platter. These stoneware plates are hand-designed by a ceramic studio in Australia. They have a simple look and eye-catching colors, especially the variable glaze brings more decorative features to this plate. Plus, in addition to being microwave and dishwasher safe, this rare stoneware serving platter also happens to be oven safe.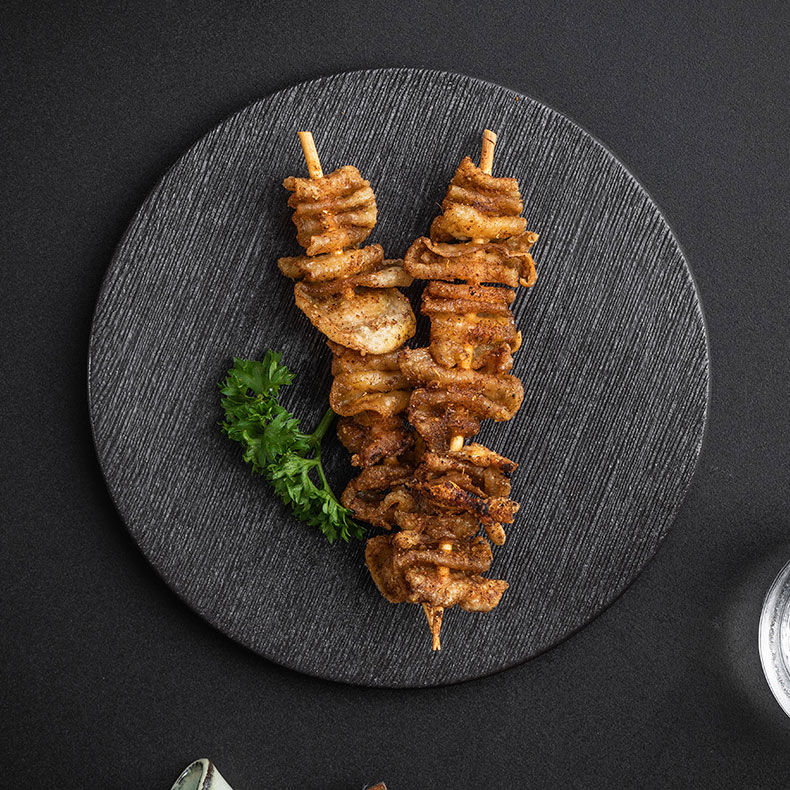 "The Becasa" is a direct-to-consumer brand and offers harmless ceramic tableware sets and single items. The brand applies a minimalist aesthetic to the Bonin line of tableware. This collection of stoneware plates will not scratch from the use of forks or knives and will not show any wear even when spun in the dishwasher. In addition, this stoneware serving platter features a large, seamless embossed brush design that is subtle yet not bold. It can perfectly match any dish.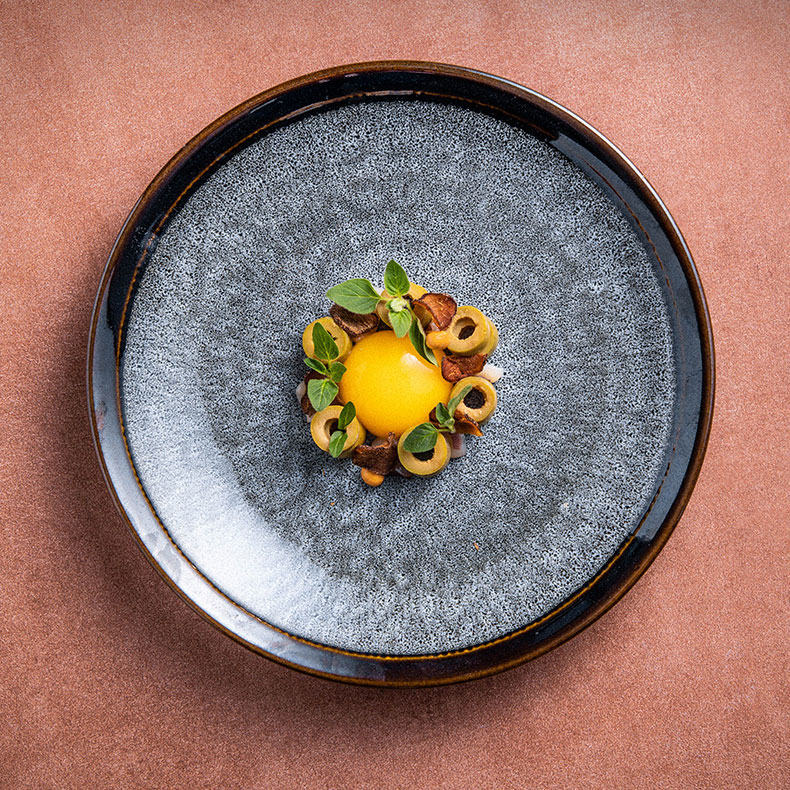 Among the classic American-style tableware, the NOVO series has a highly recognizable kiln glaze color. Moreover, it also has a variety of vessel shapes to choose from. This stoneware serving platter is never fussy about any setting and has this perfect blend on its own or with other tableware in the collection. The radiating embossed design highlights the centerpiece of the meal. In addition, it is perfect for desserts and artistic meals.