As the Christmas holidays of 2022 approach, the whole house needs to be personalized and decorated. We show you the best trends for Christmas 2022. Colors, styles, novelties …… Discover everything that is in store for us this Christmas in the preview.
"During this holiday season, shoppers are valuing relationships more than ever and cherishing the communities and relationships that matter most to them," says Dayna Isom Johnson, a trend expert at Etsy. "With so many changes happening over the past few years, these relationships have weathered the storm and made them even more worth celebrating."
Christmas is always a time to have fun with color and decorate to your heart's content while expressing your personal style – and this year is no exception! Read on to learn more about some of the top Christmas decorating trends for Christmas 2022.
Christmas 2022 Trend Colors
Pink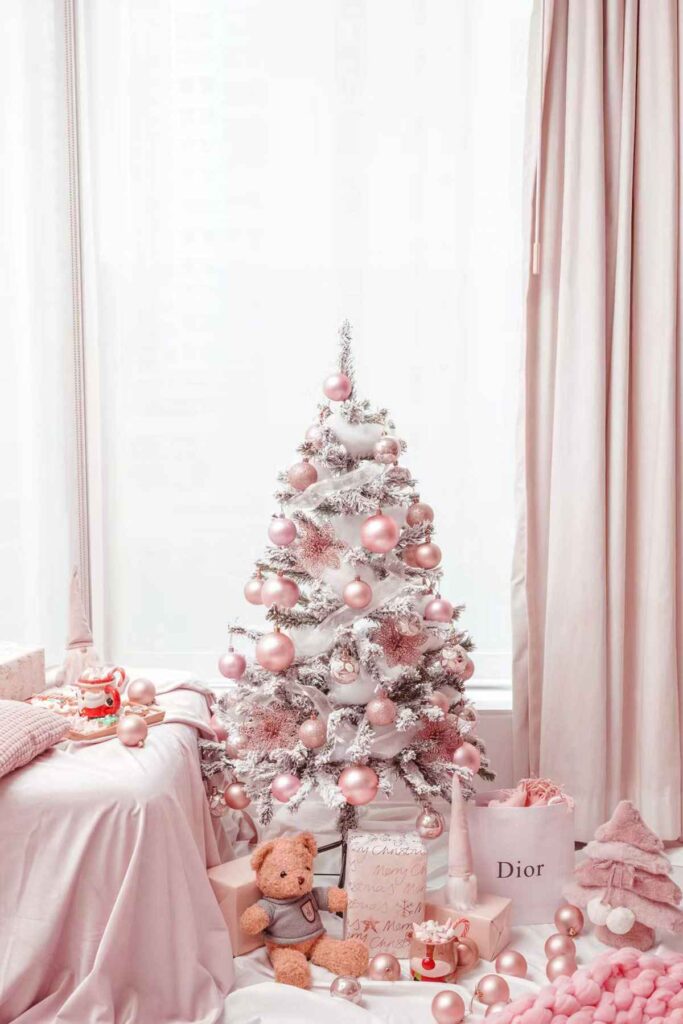 If you wish to have an elegant and dreamy Christmas night, then pink is definitely a color you should consider this year. And it's a great color match that will go perfectly with silver, copper, or natural decorations. You only need to combine your pink Christmas balls with the other two colors for a successful party to match the dreamy scene. If you also want to bring pink elements to the holiday table, you can choose pink glass vases in addition to flowers such as pins as decoration. This combination can also get some small surprises. Hurry up and add pink elements to your Christmas decoration list this year and create a thriving magical atmosphere together.
Lilac
This is a soft color that is not often seen but can definitely take center stage in year-end celebrations. If you want to add a touch of softness to your Christmas decorations, in addition to using some lilacs as decorative flowers, you can also choose the lilac purple color as the main color in other decorations. Like Christmas balls, balloons…
Lilac shades are actually already popular for Christmas 2021, but they haven't gotten our special attention yet due to their fresh and stylish hue. So if you haven't tried this color yet, go for it in 2022, you can't go wrong! In addition, the mauve shade will also bring a sophisticated touch to your room. Of course, you can also combine lilac with pink to create a romantic atmosphere. And, they go absolutely perfectly with white. But please note that the combination should never be more than three colors.
Ice Blue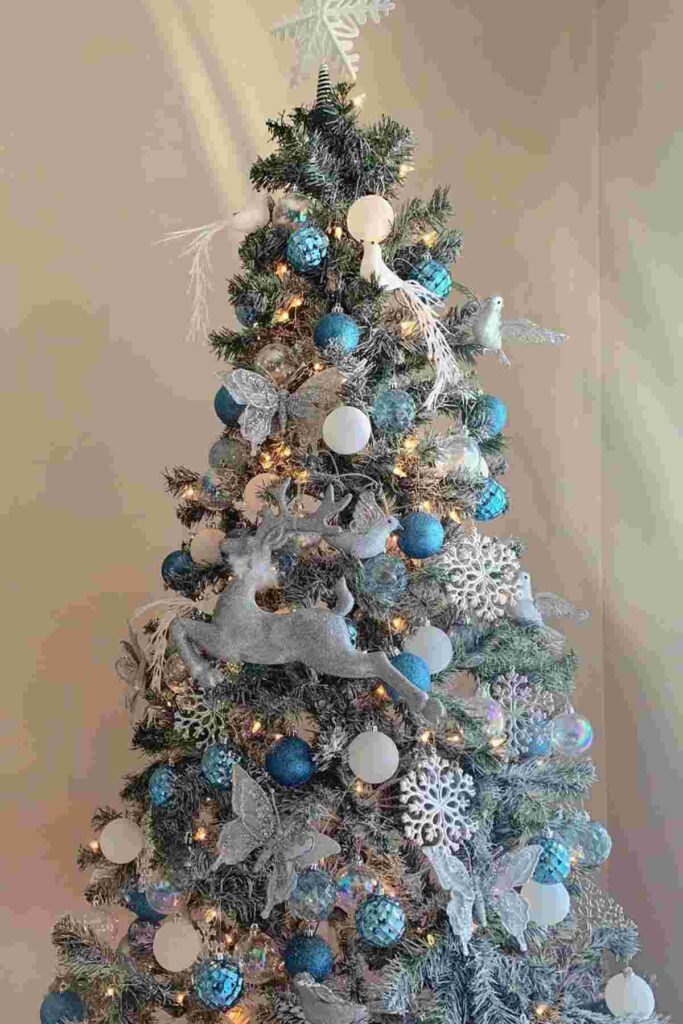 Colors with winter elements will feature prominently in the Christmas decorations of 2022. Winter colors such as glacier blue, misty blue, and midnight blue often remind us of the cold Nordic landscapes. In addition to the blue Christmas balls that can be chosen to match perfectly with the silver Christmas balls, you can also choose light wood appropriately to add some Nordic style. Finally, if you wish to bring this color to the table as well, then you can also choose a set of light blue or blue and white porcelain. This will definitely elevate the class of your carefully prepared dishes!
Green And Burgundy Red
If you are not sure to decorate your Christmas with new colors, then these traditional Christmas colors will definitely allow you not to go wrong. Examples include red, green, and gold. Green comes in modern shades, with some of the more popular shades today being sage green, mistletoe green, and moss green. If you make some changes to the traditional colors, bet on the more trendy burgundy red. However, the association of green and red must be well thought out to avoid falling into a somewhat old-fashioned decorating style.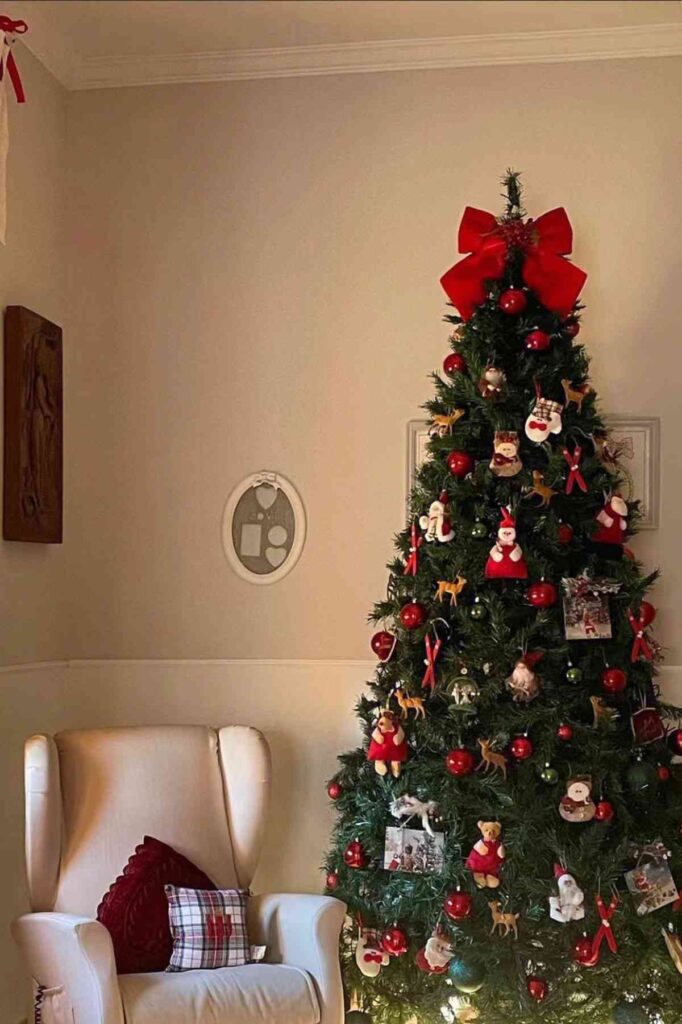 If you want to make the room more modern or luxurious for Christmas Eve, your room should have some neutral tones such as gray. Of course, it can also be natural colors such as white or wood. As for gold, it brings light to the decorations in addition to elevating your party to sophistication and luxury.
Earth Tones
Every fall and winter season, earth tones become a hot spot for investment in the fashion industry and home furnishing industries. From creamy teal to caramel, this color palette brings elegance and a sense of sophistication.
For the 2022 trend, brown and earth tones such as apricot or khaki will be particularly popular. So you can apply this trend to your Christmas decorations as well. Decorations can be combined with white and ivory to match and you will get a particularly simple and warm style.
If you have chosen earthy colors as your main color for Christmas decorations in 2022, then please absolutely pick a bright green Christmas tree as your theme. It will not only let your friends feel the Christmas atmosphere but also add freshness and hoo to your home decoration.
Popular Christmas styles in 2022
Retro Christmas Decorations
The retro style seems to be more popular in 2022 than in previous years. Mind you, retro decorations are already making a comeback! Nostalgic people will be happy to relive their childhood memories in a retro Christmas atmosphere. Red, green and white mixed with childish decorations for young and old alike. For example, trains, candy canes, and gingerbread men …… If you don't know where to go to get vintage-style decorations, you can try to find them in your grandmother's attic or grandfather's warehouse. Usually, there will bring you unexpected surprises!
Of course, if you want to have a small afternoon tea before a Christmas party with friends. Then a retro-style ceramic tea set is also essential.
Scandinavian Christmas Decorations
This atmosphere will appeal to decor lovers who are looking for open spaces and snow-covered cabins. You may have noticed that we love Scandinavian summer cottages at any time of the year. But on Christmas Eve, the owners of those lovely houses will simply decorate their interiors, although there are no colorful ribbons and bright toys, only fir branches, and candles. But this style is very soft and sweet.
In addition to the very textured matte color decorations, a large number of wooden accessories seem to transport us to the polar world. In addition, we can use some light-colored garlands to warm up the atmosphere, so that the Christmas decoration is absolutely comfortable.
Nature Christmas Decoration
Animals from the forest, branches, and pine cones …… these are the ones we can invite into our interiors as decorations for a real and vibrant Christmas celebration together.
If you are hands-on enough, then collect balls of wool, shells, pieces of wood, pine cones, and all these natural materials from your home and make them into Christmas tree hangings. This way Christmas contains the memories of when you collected these things together and reduces the unnecessary transportation and waste of disposable decorative supplies. In addition, among the plant colors in this decorative style, we find sage green, mahogany, and wool white. If you mix them with amber and lilac, not only bring originality, you will get a subtle and sophisticated decoration.
Traditional Christmas decoration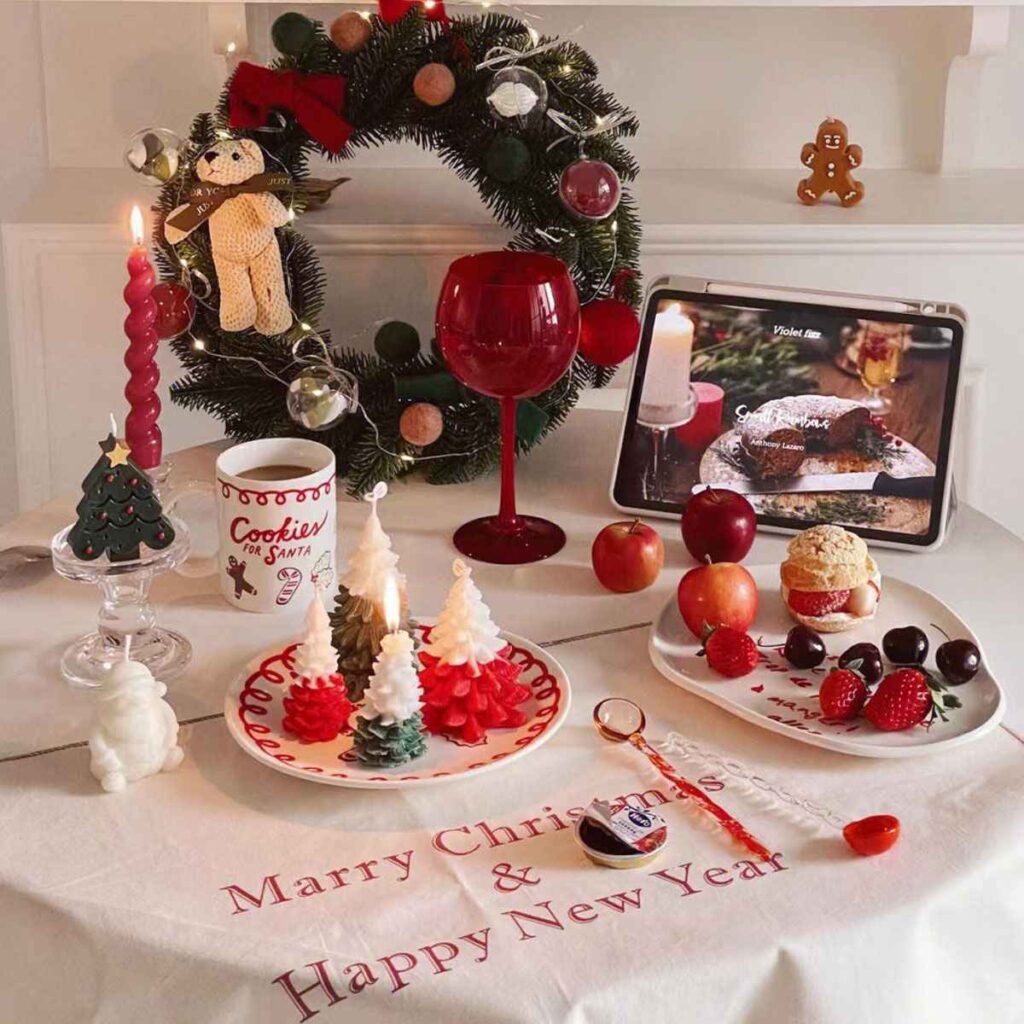 Elegance and sophistication are the keywords for a chic and traditional Christmas atmosphere. All the codes of traditional decoration blend together to create a timeless Christmas atmosphere, focusing on the gold associated with red and fir green. Candlesticks, nutcrackers, tartan knots ……
Magical Christmas decorations
Trust me, you will fall in love with the magical Christmas style and its dreamy and romantic world. Take pink as an example. A magical and wonderful environment with pink Christmas trees, pink Christmas balls, and various flowers rubbing shoulders. All original decoration lovers will be attracted to this mysterious garden, especially girls.