Christmas should be the season dedicated to all things merry and bright. Thanks to online ordering, getting festive Christmas gifts is easier than ever.
However, sometimes, it can also be one of the most stressful times of the year. In between having to throw parties and cook for family get-togethers, there's a lot to do. Especially when it comes to buying unique and thoughtful holiday gifts.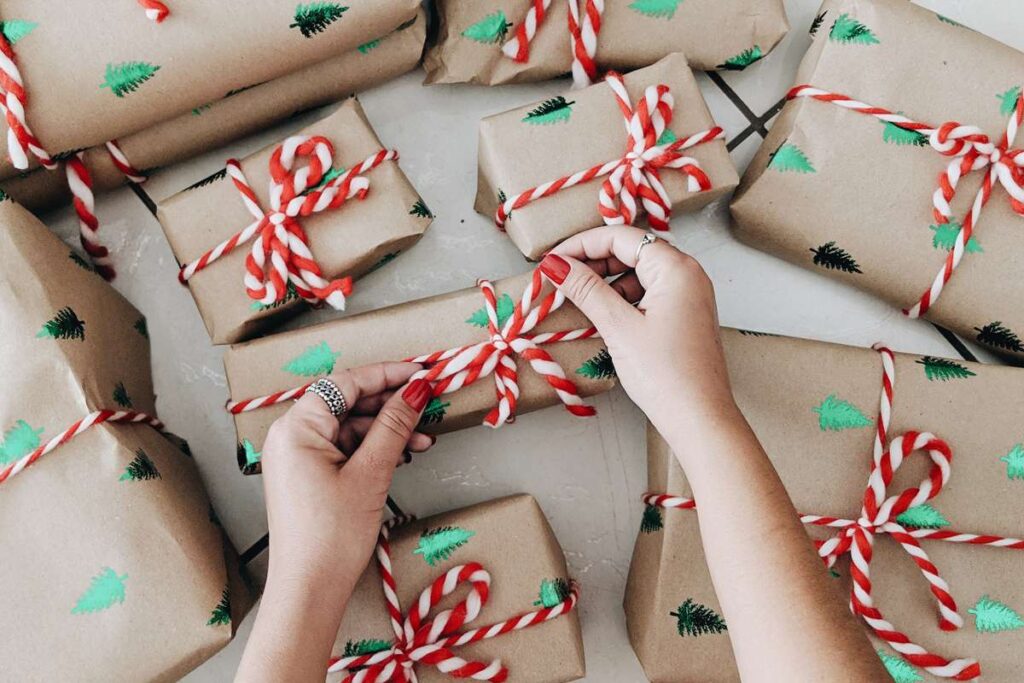 While most of the gifts are now being prepared for the holidays. But the well-prepared Christmas gift ideas will make anyone's holiday more special, isn't it? If you're going to buy ceramic-based products as Christmas gifts, read on to learn about the 16 best ceramic gifts for Christmas in 2022. Trust us, this article will allow you to take care of everyone on your list.
Wedgwood Christmas Tree Decoration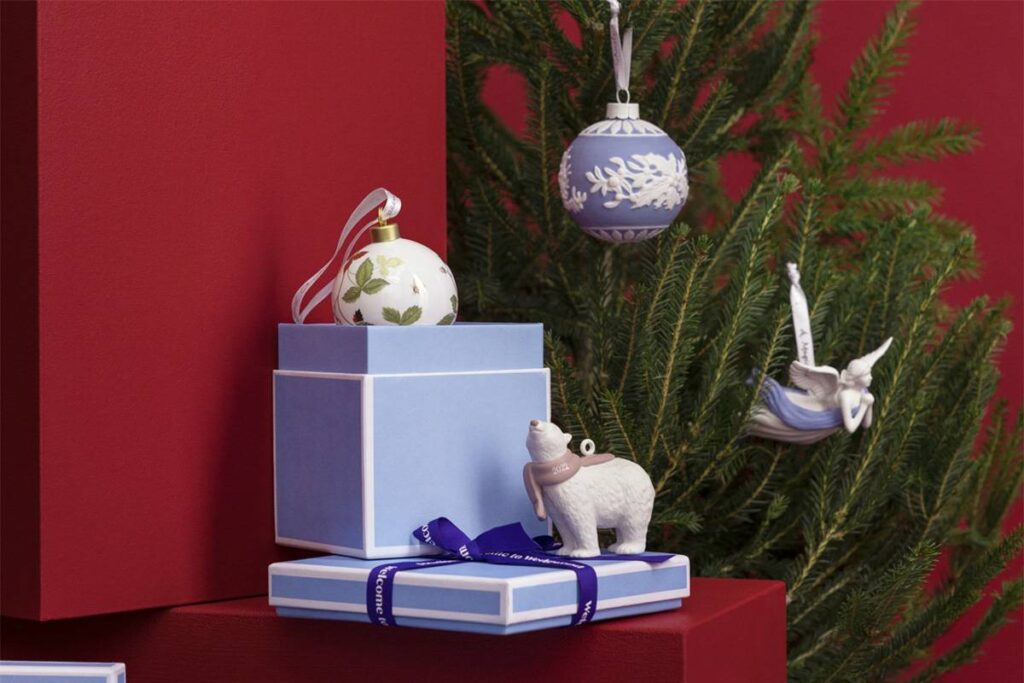 Christmas ball ornaments are definitely a must for your Christmas tree. So you can't go wrong with giving it to a friend or family member as a gift. Wedgwood's Christmas ball decoration is made of porcelain in a striking blue-and-white color palette. The ornaments are decorated with ribbons that read "A Magical Wedgwood Christmas ". In addition, each comes in a blue gift box with the brand's logo, making them the perfect gift.
Sam's Ceramic Christmas Village Set
This ceramic Christmas village is from Sam's. This product creates a cozy community atmosphere that will add to the Christmas holiday spirit in your home. Three ivory houses of varying heights and widths sit on a long, rustic wooden pallet. Scattered between and behind the houses are a series of holiday trees that feature traditional natural tones including green, white, and gold. The soft colors of the bottlebrush trees match perfectly with the snowy ivory color of the house.
The holiday scene, on the other hand, can be illuminated by 20 warm white microlights and emits an inviting glow from the small windows of the ceramic ivory houses. This gift can be placed in a variety of places in your home, perfect for a cape, console, windowsill, or mantelpiece.
Bernardaud Ceramic Embossed Candle Holder
Bernardaud uses traditional techniques to create beautiful candle holders by carving designs on fine unglazed porcelain cookies. The clever use of shadows and lights makes the decoration transparent, revealing amazing detail and perspective accuracy! In its LED version, you can choose between fixed light and candle effect options, with a life of approximately 9 hours. So it can be used not only as a candle holder but also as a night light.
So, their embossed candle holder is definitely an essential Christmas gift. In addition to being a table decoration, it can add a cozy atmosphere to a family dinner on Christmas Eve.
Dimoo Ceramic Cloud Lamp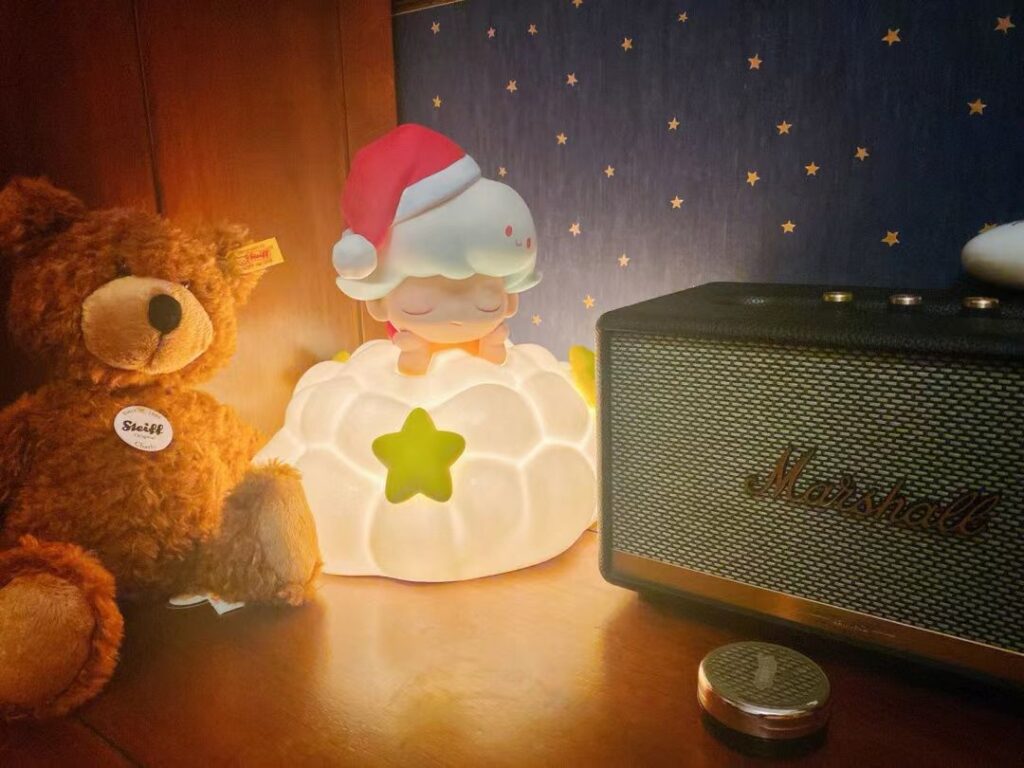 If you are a fan of trending toys, or your friends are, then this Dimoo ceramic cloud lamp is definitely the first choice for Christmas gifts. The Dimoo is sleeping on the clouds with close eyes, wearing a Christmas hat, the clouds are dotted with a few stars, very cute. In addition, the light is adjustable in three levels, using the USB interface rechargeable ceramic lights, ideal for placing anywhere in the home. Moreover, not lit and lit as home furnishings are very good-looking. Even a small night light is also very suitable.
Diptyque Ceramic Music Box
Diptyque's fragrances and perfumes have always been very famous. But what I didn't expect was that they opened a boutique grocery store in Paris, selling only artwork by artists from around the world. I heard that the reason for opening this grocery store is also to pay tribute to Diptyque's three brand founders. These three founders are painters, designers, and theater actors, the three are always traveling around the world, on the way to collecting all kinds of grocery artwork to sell in the store. So Diptyque did not start out as a fragrance but was born in the form of a grocery store.
Diptyque's ceramic music boxes are made from ceramics from Limoges, the capital of French ceramics, and handcrafted the pattern in Parisian workshops. In addition, these music boxes are only available in a limited number of Diptyque's Parisian boutiques.
As the egg-shaped music box opens, there are swans, butterflies, little ladybugs, lovebirds, and Santa Claus …… twist the clockwork, and the octet box will play Swan Lake, Nutcracker, Rose Life, and other classic melodies. Such a gift, you will not be moved?
Lladro porcelain dolls
Lladro is a world-renowned brand of art ceramics, the most recognized in the world of art ceramics. And it is ranked third in the luxury category of the most recognizable local brands in the Leading Brands Forum of Spain. Each Lladro porcelain doll model is reproduced by the same sculptor. This is a very meticulous and careful process, from the finishing of the details to the painting, as LIadro's artisanal experts gradually transform the original model into a precious work of art. The sculptures are then fired in a high-temperature kiln, perfectly displaying the most authentic and unique style of elegant porcelain.
On the other hand, Lladro porcelain dolls have long been recognized around the world for their consistently lively artistic style. In addition, the feeling of happiness and joy in life can easily be felt in Lladro porcelain dolls' porcelain works, which illustrate the beauty and emotion of the human experience. Prices of Lladro porcelain dolls range from 45 euros to 3500 euros, so you can pick up the right Christmas gift according to your budget.
Origami Ceramic Dripper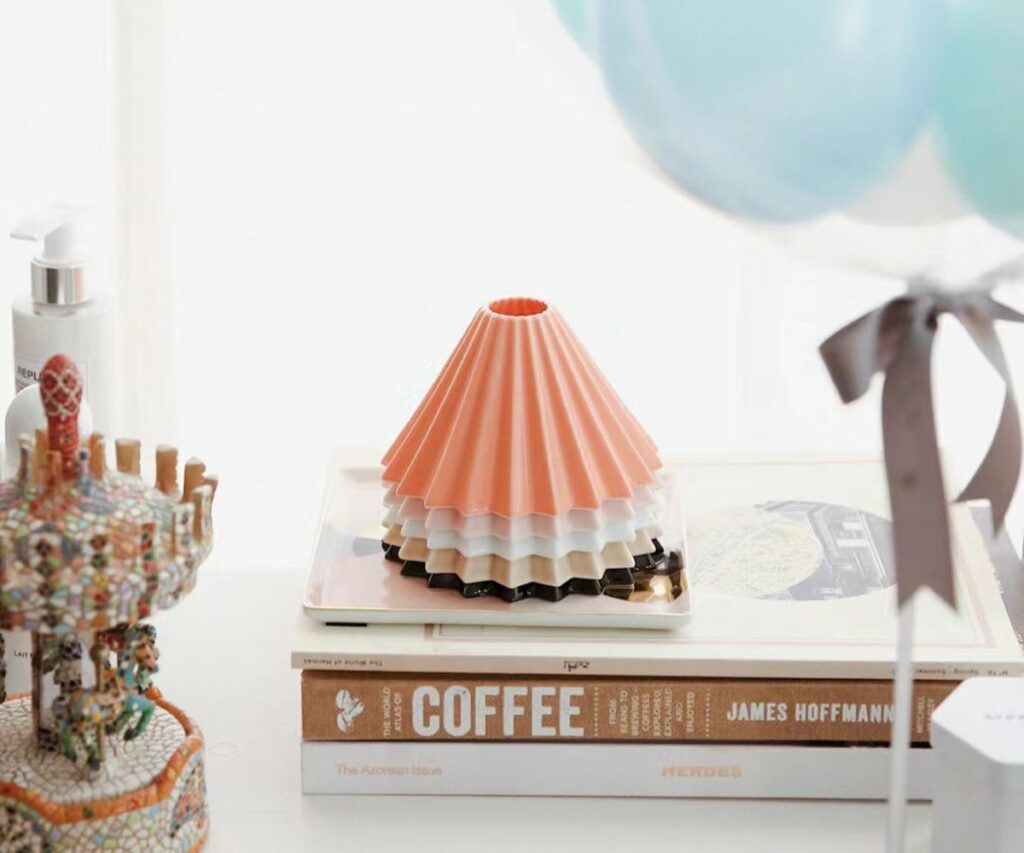 There is nothing better than having a steaming cup of coffee on Christmas Eve. If your friend is a pour-over coffee lover, then this ORIGAMI ceramic dripper is a Christmas gift you should definitely give him or her in 2022. The material of this dripper is ceramic, but the texture is very thin and light. And with the different colors of glaze, this flower-like dripper has won the hearts of many coffee lovers! In addition to its beauty, the ORIGAMI dripper can be made with different shapes of filter paper. The advantage of this is that you can brew coffee with different taste levels according to your own preferences and taste.
Becasa Porcelain Dinner Set
Be it as a gift or even for holiday dinner, Christmas dinnerware would boost the mood. Before you turn your back on the idea of Christmas dinnerware, we'd like to remind you that there is zero chance that ordinary everyday plates and your various unintentionally mismatched bowls will bring a festive atmosphere to your guests.
If you're looking to host an event over the Christmas holiday, you'll need at least two plates per person for dinner – a small plate for appetizers, salad, or dessert, and a large plate for the main course. If you're hosting a low-key holiday breakfast, you may only have one plate per person, but you'll also need cups …… and possibly bowls.
We have a feeling that Becasa Porcelain's festive new dinnerware set will also delight your family and friends for years to come. Don't hesitate! Bring festive cheer and unique character to your tablescape with Becasa Porcelain Tableware.
Pink Vintage Ceramic Christmas Tree
Christmas Eve is not complete without a Christmas tree. As a popular theme for 2022, vintage and pink colors are definitely elements you need to include in your Christmas party. If you are planning to do the same, then take this beautiful pink Christmas ceramic tree with you. This 16-inch tree has colorful LED lights that glow through multi-faceted bulbs and is topped with a bright star for vintage elegance. This elegant piece looks beautiful on a cape, side table, bedroom, bookshelf, or anywhere that needs a festive touch to help add to the holiday spirit.
Ceramic Hand-painted Christmas Tree Candle Holder
Whether it's a family dinner or a Christmas party, it's essential to light candles to add to the festive atmosphere. If you can have the candles placed on the candle holder, then it will improve the party a class up. This hand-painted ceramic Christmas tree candle holder is fired at high temperature, hand-applied and hand-painted, each piece takes at least 6 hours to complete. It is a rare desktop decoration and Christmas gift.
Ceramic Christmas Tree Sugar Box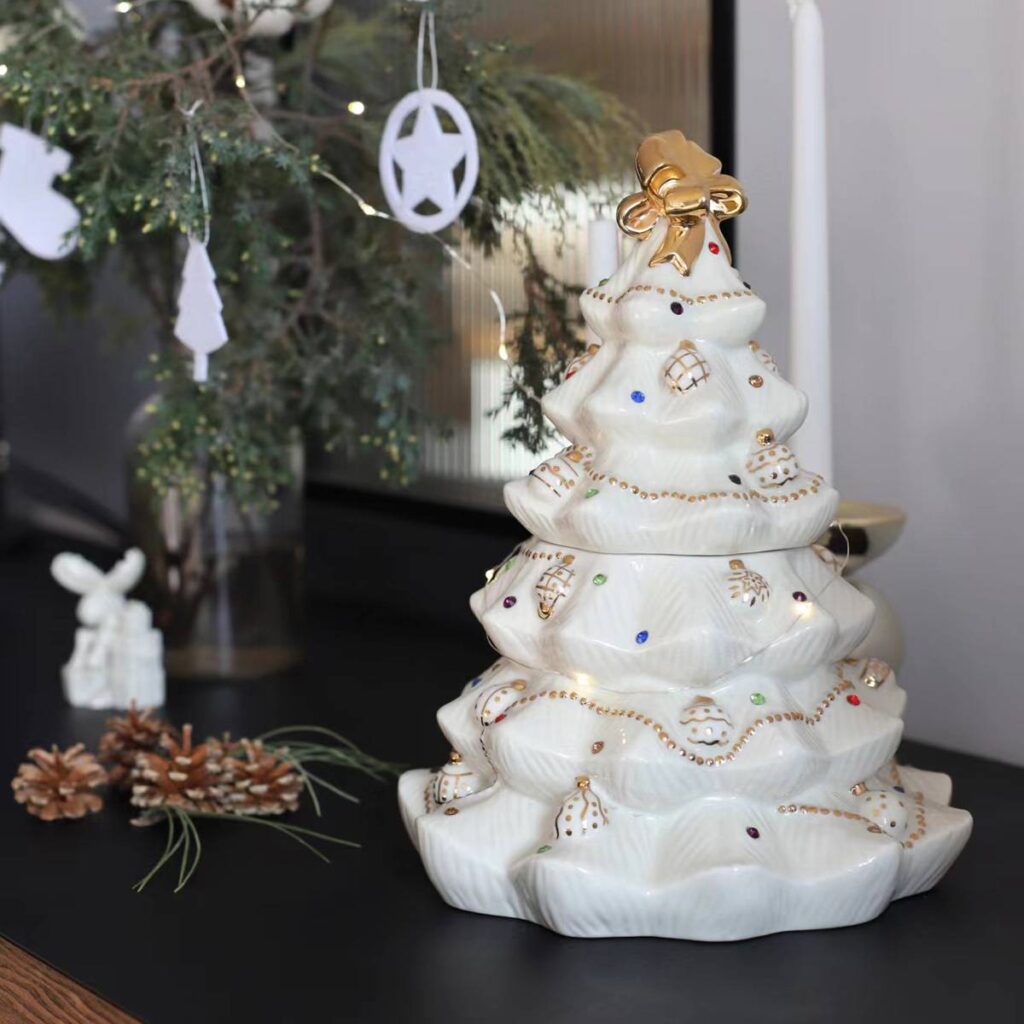 Every holiday can't be celebrated without candy, and Christmas is no exception. You can use this Christmas tree candy box for family gatherings, restaurants, school cafeterias, and other Christmas parties. And it brings you a lot of convenience for placing muffins, cookies, and candies. In addition, besides being a storage box, this Christmas tree-shaped candy box is also feasible as a home decoration.
Tabletop Ceramic Decorations
These ceramic tabletop decorations will be the perfect addition to your holiday decor or can be a gift option. These decorations will add some holiday cheer to any room in your home. Use them on a table or display them in a seasonal mantel arrangement. Each ceramic ornament is filled with small LED bulbs that can be lit up.
Ceramic Christmas Tree Jewelry Box
This jewelry box is definitely a creative gift for your children or loved ones. It is full of various elements of Christmas and does not lose its practicality.
Keep your jewelry away from perfumes, lotions, hairspray, or cosmetics – particularly for pearls, as this may affect the color or luster. This is also especially important for our gold-plated pieces which are more prone to oxidation and tarnishing.
Christmas Mug
Curl up on the couch and have a hot drink with a Christmas mug. Choose a fun set of Christmas mugs for a special family gathering. Commemorate your favorite holiday character with a Christmas mug. What wonderful ideas these are. Act now! Choose a delightful classic Christmas mug for a delightful decorative feature.
Christmas Gonk Tableware
Full of character and color, the Gonk theme dinner set is the perfect festive kitchen essential for you this Christmas. This collection is including plates, mugs, sugar boxes, and milk jugs. Whether you're putting out homemade gingerbread for your Christmas party guests or serving vegetables at Christmas lunch this gonk-shaped plate is sure to raise a smile. Hurry up and arrange such a set of tableware on the theme of Christmas Day 2022. Serve the turkey and celebrate with some new wine and champagne glasses.
Ceramic Hanging Decoration
In addition to the Wedgwood ceramic decorations we mentioned above, there are also some more cost-effective and cute hanging decorations that can be used as a gift option. Santa Claus, cane candy, snowflakes, wreaths, and socks, each ceramic piece is hand-painted and colored by the artisan. 2022 is the year of vintage style, so if you're already planning to decorate a vintage room this Christmas, decorate your Christmas tree with these decorations!