Do you know that the color of the dinner plate can also improve appetite? Especially when you have no appetite, you may want to change to a black dinner plate. I believe your appetite will also be greatly increased. Many people will wonder why this principle? In fact, the black dinner plate can form a strong contrast with the color of the food, more prominent food delicious temptation.
Generally speaking, black dinner plates are available in plastic, stoneware, porcelain, and other materials. But it is best to use stoneware or porcelain material, wear-resistant and durable.
If you are still on the fence about picking a black dinner plate, this article is definitely worth reading. After testing by our experts and feedback from the market, we provide you with a list of the 10 most popular black ceramic dinner plates about 2023.
Meteor shower black dinner plate
This dinner plate is made of New bone and inspired by meteor showers. The radiant pattern design provides a stronger visual impact and is perfect for placing ingredients in the center of the plate. At the same time, the timeless color palette of black and white complements it well.
Marble dinner plate
Speaking of marble elements, we can often associate with words such as tasteful, plain and noble. Serving food in these marbled tableware can enhance the sense of sophistication of food. It brings out the original taste of the food, but also makes the whole dining environment look very simple and high class. Therefore, it can also better enhance the appetite of guests.
Striped dinner plate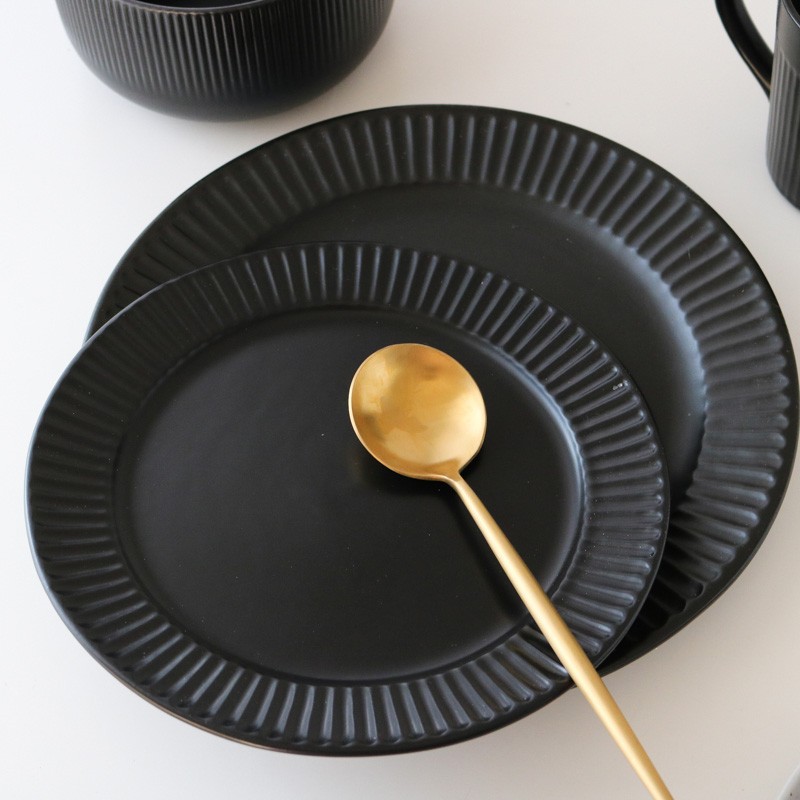 The design of vertical stripes around the edge enhances the texture of the whole dinner plate. The simple stripes with a flat matte background in the middle can better highlight the freshness of the ingredients. For example, salad. In addition, this black dinner plate is made of stoneware and has a matte glaze. This dinner plate is currently on the radar of many independent restaurants.
Black frosted disc with gold rim
Unlike other dinner plates, this one has a square design. And the corners are also rounded. Due to the use of frosted glaze treatment. So the surface of this plate will be more resistant to scratches. And because it is made of stoneware, it will also be more durable. In addition, the gold rim design also makes this dinner plate more elegant and good-looking. If you want to have a less common dinner plate, then this style can surely get your love.
Vintage antique round dinner plate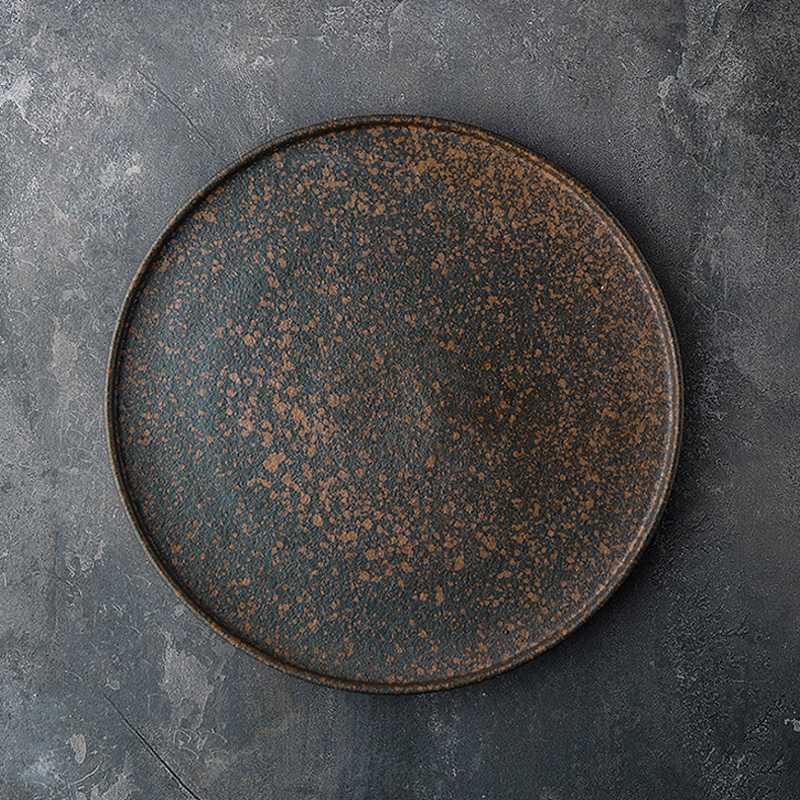 The subtle grainy design gives this dinner plate a sense of age, steadiness and dignity. The thick feel and glazed texture, as well as the slightly elevated rim design, allow this plate to also hold dishes with a small amount of soup. Do you feel more practical with such a plate? Fired at a high temperature of 1320 degrees Celsius, this plate has the sturdiness and durability of porcelain. And it's dishwasher and oven safe.
Brushed matte black dinner plate
This dinner plate can be called an artwork. The matte glaze with brushed textured shape, it can't be described in language as a luxurious design. In addition to shallow plates, there are also soup plates and deep plates in this series of tableware with exclusive designs to suit various application scenarios. In addition to these, this dinner plate is also designed with a non-slip ring at the bottom and polished to prevent the table from being worn out.
Frosted black appetizer plate
Appetizer plates are generally designed to be easy to hold. This dinner plate mimics the texture of cast iron with a frosted glaze, but it won't rust like iron. The double-handle design makes this plate easier to transfer in different scenarios. The plate is available in two sizes. A rectangular shape is also available.
European-style gold-rimmed dinner plate
The hand-painted gold rim design is stylish and retro. This dinner plate features a handcrafted design with a concave and convex surface. This collection of dinnerware balances practicality and style and can be paired with many other styles of dinnerware. Whether you are a restaurant chef or a housewife, this dinnerware set is worthy of your ownership.
Stone pattern soup plate
This stone-print soup plate from THE BECASA is a sight to behold. Unlike previous tableware designs, its surface is uneven and has a gravel-like texture. The retro and wild design style makes this plate quickly become one of the favorite models of many restaurants. In addition, the edge of this plate is also thoughtfully designed to be rounded and not cut. If you also want to enhance the appeal of your dishes to your customers, then this plate is one of the options you can consider.
Shaped wave edge plate
If you are looking for a unique plate to serve your dishes, perhaps this plate is worth knowing about. The high and low wave pattern design makes the food on the plate seem to come to life. In addition to a matte glaze finish, a frosted glaze finish is also available. It can be used for desserts, pasta, and salads.
If the above plates do not meet your needs, or if you have a better design, please feel free to contact us by clicking here. We at Becasa Porcelain are more than willing to give you any support and help you turn any idea into reality.