Nowadays, culinary culture and art are so intertwined that plating has become a masterful work of art. Just like any famous painting or sculpture.
How to Dress Up Your Plate?
The phrase "eat with your eyes first" is an apt description of plating. This is why exceptional chefs strive to create meals that are not only delicious, but also skillfully executed and beautiful. Chefs need vision, texture, color, aroma, and balance to create a unique presentation that will impress their diners. As the holidays approach, you too can impress your guests with clever meals, festive table settings, and delicious treats.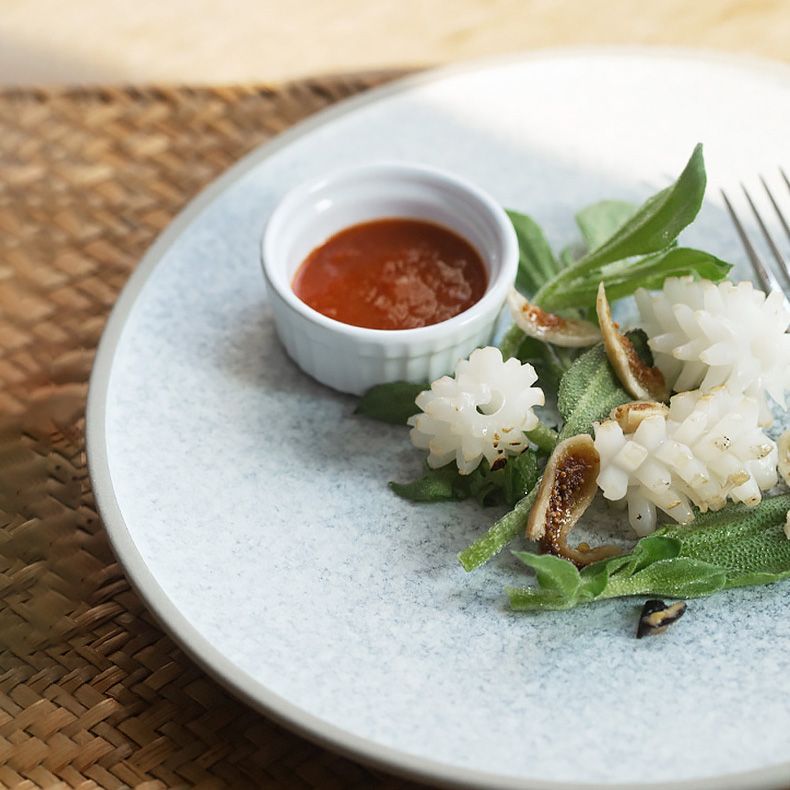 Do you like the elegant way a dish is served on a plate in a restaurant? Who says you have to go out and eat there? The following tips will turn your kitchen into an elegant restaurant.
1. LESS IS MORE
This creed doesn't always apply when it comes to food. But when we talk about arranging a dish on a plate, it's essential to keep this in mind. A whole plateful of kale may be tasty, but it doesn't necessarily look very appetizing. So try to serve the dishes in smaller portions to leave more free space on the plate visually.
2. PLAY WITH THE COLOURS
Try to work with color contrasts. For example, think of white rice on a red or blue plate. The shape of a plate can also affect the look. Get creative and replace a round plate with a square one!
3. SAUCES, DELICIOUS DECORATION
Serve the sauce in a small separate container next to the dish – it looks immediately chic. And if you want to be creative, try drawing with the sauce to create nice lines or dots on your plate.
4. COVER YOUR TRACKS
We all make mistakes in the kitchen, but we've learned not to show them on the plate. It's very simple: Before serving the plate, wipe off any sauce stains, grease stains, or fingerprints with a cloth.
5. SERVICE IN ODD NUMBER
One of the rules of chefs when serving: Always serve odd numbers. So not four croquettes, but three.
6. DECORATE WITH FOOD LEFTOVERS
Keep ingredients left over when you cook: you can use them later as garnishes! It doesn't just have to be ingredients that you use in your dish. Think of carrot leaves, for example, they're edible and add a nice finishing touch to your plate (and don't end up in the trash).
How To Find an Artistic Plate For Your Food?
The fusion of art and food is evident in the display of perfectly crafted plates. From the choice of plates, the colors represented and the garnishes used, everything is a creative decision that requires flair and precision. You can also learn how to plate your food like some of history's most revered creators with our guide "How to choose the right restaurant dinnerware".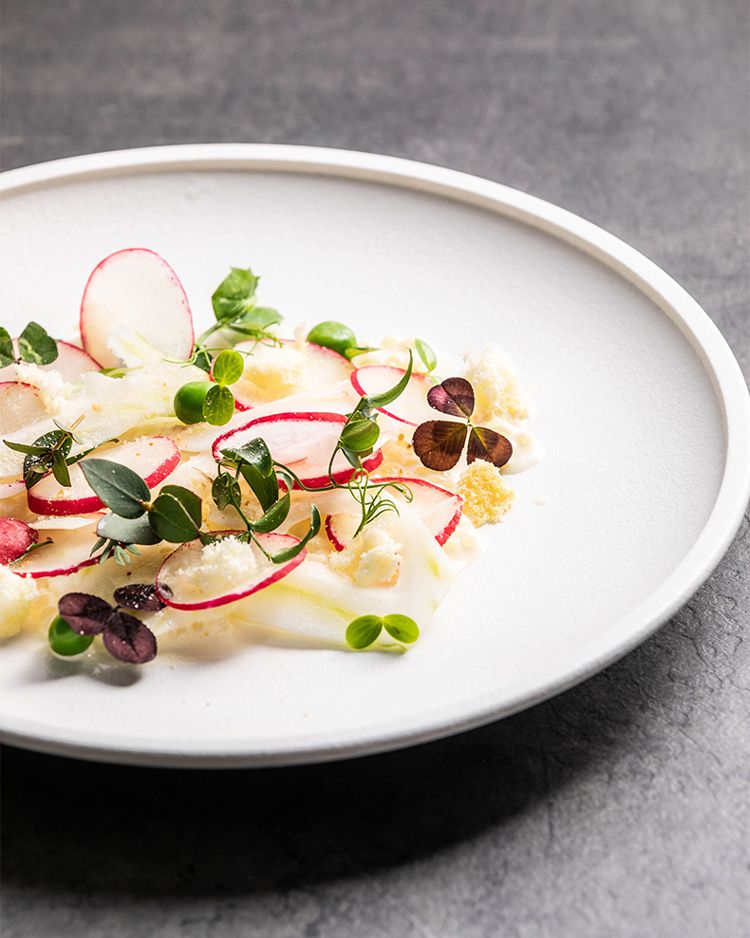 If you are looking for a matching plate set for your dinner. It's time to complete your dinnerware collections. Snow dinner plates will offer a variety of eye-catching types to complement your lifestyle. This dinner set is sure to impress your family and guests with its elegant designs. 10 inches, perfect for the main course, dinner, and brunch. From casual breakfasts to fancy dinners, this versatile plate set can quickly and easily dress up or down by the way you set it up. Lead & cadmium-free dishwasher safe, microwave safe, and oven safe.
Galan Dinner Plate
The better Galan plate is a 10″ Round porcelain textured edge farmhouse style mix & match dinner plate. Pair this with other items from the Galan collection or with other white porcelain serve ware from Becasa Ltd, sold separately.
Vortex Dinner Plate
The Becasa stoneware dinner plate adds a warm, modern sophistication to your everyday dining experience. Crafted with high-quality, durable stoneware, this dinner plate features a subtle swirl design and an exposed clay bottom that exudes rustic charm. The contrast between the shiny, glazed stone and matte, exposed clay creates an artisanal flair that is sure to be loved for many years to come. Designed in contemporary neutral tones, this Vortex collection will easily complement your other dinnerware and cutlery pieces in your personal collection. And, this plate is dishwasher and microwave safe to make after-dinner cleanup and reheating leftovers a total breeze.
Camellia Dinner Plate
The Camellia Blue And White Dinner Plate are large enough for hearty portions at breakfast, lunch, or dinner. Porcelain makes it durable for when life happens, and it's microwave-safe and dishwasher-safe for everyday use! Choose the Camellia Blue And White Dinner Plate, if you want dinner plates that look great and hold up well. It is easy to care for, and durable porcelain ensures it will hold up to years of use while looking great on your table. Pair this plate with other blue-camellia dinnerware items from Camellia for a complete dinner set that will elevate the appearance of your dining room and delight your guests.
Lan Dinner Plate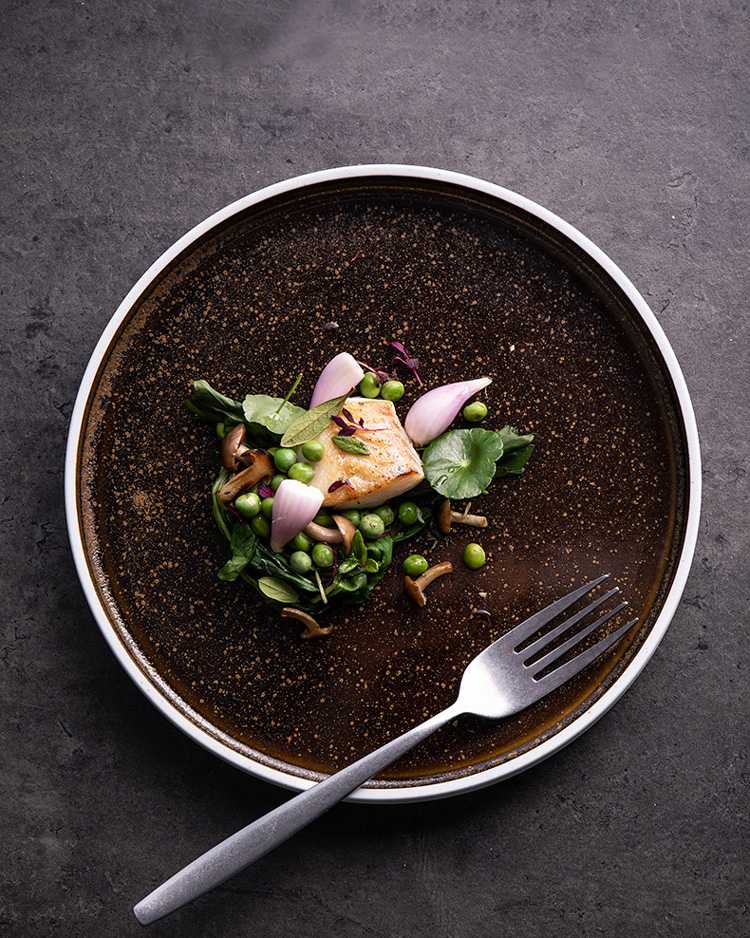 Use them for everyday meals and for when guests come over for dinner. These brown dinner plates are durable, which means they can withstand fairly heavy use without a problem. Conveniently, they're also dishwasher safe. This Lan collection includes four brown plates with tiny coffee accents that feature rustic white edges, adding some unique character to your home. These dishwasher-safe dinner plates are also microwave-safe. These plates lend themselves to a farmhouse setting as well as formal dining with a unique rustic mix & match flair. The set comes in a re-shipper for safety and does not ship in a gift box.
Raw Dinner Plate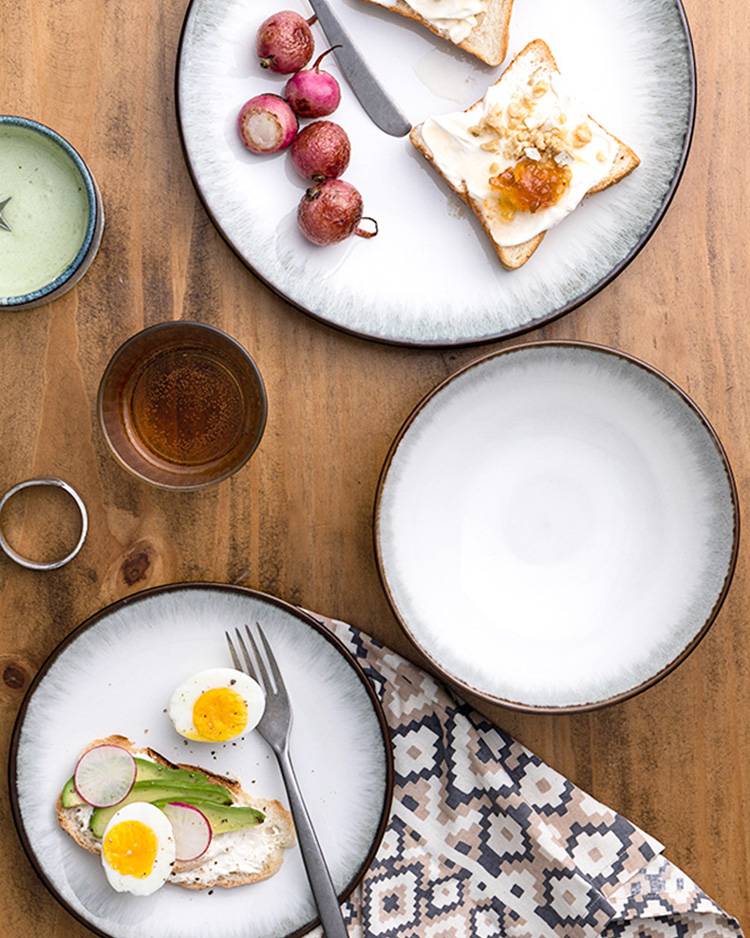 Raw is a unique collection of kitchen essentials curated for recipe gurus and enthusiastic foodies who crave bold style and unmatched quality. We have crafted a selection of kitchenware that will transform any kitchen into your personal cooking oasis. The raw collection uses reactive glaze craft, including dinner plates, soup bowls, pasta bowls, serving plates, and much more.