When it comes to Spanish cuisine, the first thing that comes to mind for many people is Paella. But in fact, there are many delicious seafood delicacies in Spain besides paella.
Seafood is "mariscos" in Spanish, and although "mariscos" also means shellfish, a dish with only shellfish alone cannot be called a "seafood dish". "but fish and echinoderms can.
In Spain, most shellfish are eaten raw and are mainly used as a snack. Fish in Spain is mostly cooked in various ways in the traditional style, thus presenting different kinds of dishes.
Shrimp is a highly prized food in Spain. In Spain, different sizes of shrimp are called by different names. The largest shrimps are called "langostinos", medium-sized shrimps are called "gamabas" and some small but expensive shrimps are called "camarones ". Of course, regardless of size, Spanish shrimp are very tasty.
Next, we are going to make the classic Spanish seafood dish, Spanish garlic prawns (gambas al ajillo), which originated in Andalucía. Gambas al ajillo are cooked with prawns, garlic, parsley, sherry, and lemon juice, you can find them in any classic tapas bar in Spain.
INGREDIENTS
Giant Tiger Prawns 500g
Parsley
Dried Chillies
Garlic
Sea Salt
Black Pepper
Smoked paprika
Sherry 30ml
Olive Oil
Lemon half
STEPS
Step 1: Wash the shrimp and remove the shrimp threads, go to the hull and open the back.
Step 2: Add sea salt and black pepper and marinate for 5 minutes.
Step 3: Slice the garlic, seed, and cut the dried pepper, chop the parsley and set aside.
Step 4: Pour olive oil into the pan, add the shrimp head and stir fry shrimp oil and then strain. Add garlic and chili pepper and stir fry for 30 seconds.
Step 5: Add 20g of butter, and 30ml of sherry, squeeze in the juice of half a lemon and sprinkle with the chopped parsley. Meanwhile, pour the soup over the shrimp balls with a spoon, so that the wine aroma can be better infused into the shrimp balls. 30 seconds later, you can serve.
Step 6: Slice the baguette into thick slices and top with the garlic shrimp and garlic slices so that a simple pre-dinner snack is ready.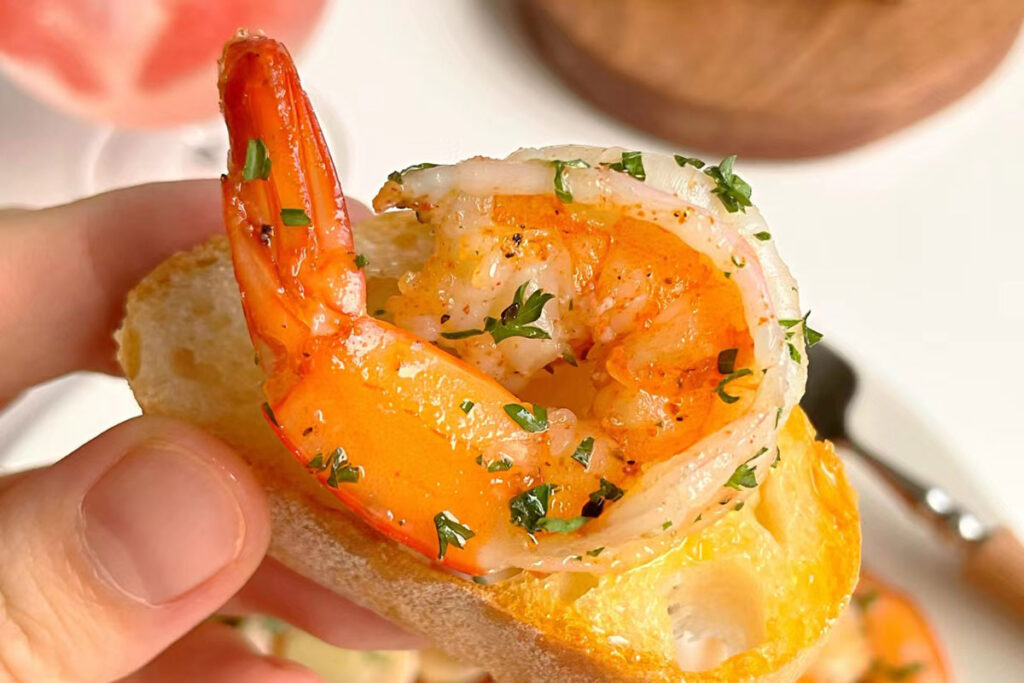 This snack is very popular with children, and if you have children at home, you can try to make it for them.