Appetizer plates are usually designed to be easy to grip. In addition to serving appetizers, they can also be used for other purposes. In addition, they can come in any color and even in a variety of wild designs. Thus, you can easily pick the perfect plate to match the theme of your party. Christmas is no exception.
For a formal dinner party, appetizers are essential. In this post, we'll continue to take you through how to throw the most stylish Christmas dinner party ever!
The four types of plates needed for a dinner party
When it comes to the different types of plates and what they are used for, there's a lot to talk about. While there are many different types of plates that can be prepared to let your guests know how much time and effort you put into planning a dinner party, there are really only four main types of plates that you need to use when hosting a dinner party.
Appetizer Plates
The appetizer plate, as we often call it, is usually about seven inches in size. It is an extremely versatile plate. Of course, his main use is still for finishing the presentation of appetizers. This is also more in line with their name. Whether you serve appetizers like on a tray or on a separate plate, this plate is a must.
In addition, appetizer plates can be used to serve bread and butter, deli platters, or other small dishes.
Salad Plates
Salad is definitely an essential dish at a dinner party. It can be served either as the main meal or as an appetizer. If a salad dish is served as the main meal, it will add elegance. A salad plate is usually larger than an appetizer plate, measuring about eight inches. Therefore, you can feel free to plate the salad separately and place it in front of your guests. In everyday life, salad plates can also be used when serving family-style salads.
Dinner plates
Whether you're hosting a party or going about your daily life, dinner plates are essential to every meal. A dinner plate is usually a large plate of about 10 to 11 inches that can accommodate various types of dishes. If you're planning a buffet or family-style meal for Christmas dinner, we recommend having more than one plate for each guest!
Dessert plate
No meal is complete without a sweet treat at your party or dinner party. While some cultures do not have dessert as an after-dinner course, it is still definitely something to look forward to at a dinner party. Whether it's an elaborate dessert or a complete cake, the options for sweet treats are endless. That's why dessert plates need to be prepared as well.
Although the dessert plate is usually a little smaller than the appetizer plate. So some chefs or restaurateurs won't have any reason to invest in them alone. However, if it is a dessert plate designed specifically for dessert, then it is definitely worth the investment. It maximizes the display of the dessert and makes it even more tempting!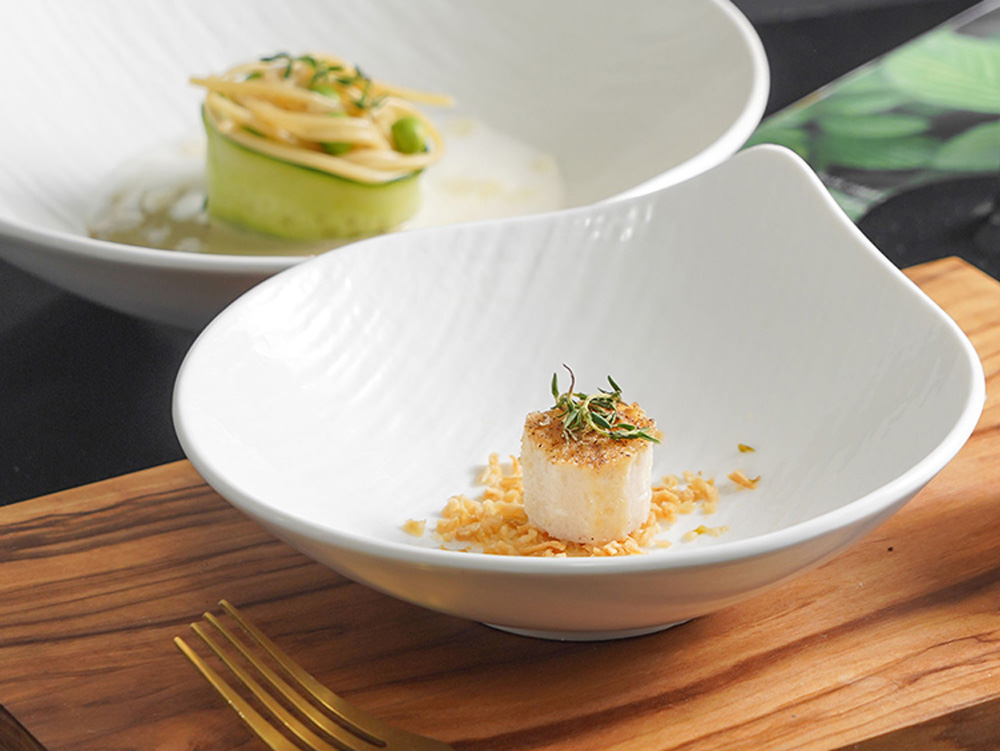 What material should I choose for the different plates?
Actually, the ceramic material is the most common. If it is a dinner party, you can choose white or solid-color porcelain or stoneware. If it's a family party or get-together, then choose porcelain or stoneware with a theme.
Tips for hosting a dinner party or gala
A successful dinner party or party will certainly check all the boxes for a meaningful celebration. Therefore, you need to do the prep work: choose the date to hold it, compile the guest list, and plan the menu. Even the game sessions at the dinner or party. It's serious and tedious work, but trust me, you'll be proud of yourself when you've had a successful event!
Here are some tips from Becasa Porcelain to make hosting dinners and parties as easy as possible.
1. Keep things as simple as possible
If you want to create sophisticated dishes with dozens of ingredients and you enjoy the process, then it's absolutely fine. Of course, it's also perfectly fine to focus on simplicity. Not only does it make the dinner party caterer's job easier, but it also allows event attendees to focus more on the event itself.
After all, what could be better than a good steak, ripe tomatoes and cream cheese served in an almost natural state? Therefore, when planning a menu, it is best to consult with the chef and focus on simple ingredients and cooking methods.
2. Dishes should follow the season
A simple menu is closely related to seasonal products. After all, the best quality of seasonal vegetables and fruits, especially seafood, require very little preparation to stand out at the table.
3. You can prepare a MISE EN PLACE
Suppose you wish to cook with more composure, as the French do. Then you may consider putting all the ingredients in a small bowl as a backup before you start cooking. You can always use disposable baking cups if you don't have enough bowls to hold all the ingredients.
4. Please prepare a cocktail hour
Cocktails are not always required here, champagne and wine are also fine. The purpose of this is to give your guests a chance to mingle and warm up during the main event. A dinner party is much better if you can spend an hour or two having drinks, delicious food, or even conversation.
5. The right plate for each dish
When preparing your event, consider and ensure that you can prepare plates for your guests that fit different types of dishes. If you are serving dishes with conflicting flavors, make sure you change the plates for your guests before switching to another flavorful dish. To do this, it's a good idea to choose plates that can be stacked to save space and be easy to store.