The market for ceramic dinnerware in Canada is highly competitive, with both domestic and foreign brands vying for market share. The market is driven by consumer preferences, price sensitivity, and a constant drive for innovation.
Canadian consumers have a wide range of preferences when it comes to dinnerware, including factors such as design, material, and functionality. There is a growing demand for sustainable and eco-friendly products, as well as products that are versatile and can be used for multiple purposes. Canadians are price-sensitive consumers, and may prioritize affordability over other factors when choosing dinnerware. However, there is also a market for higher-end products that emphasize quality and durability.
The market for ceramic dinnerware in Canada is highly fragmented, with products sold through a variety of channels including brick-and-mortar retail stores, e-commerce platforms, and specialty stores. Online sales have been growing in popularity, driven in part by the convenience and accessibility of online shopping.
The competition in the market for ceramic dinnerware is fierce, with both domestic and foreign brands vying for market share. Foreign brands such as Royal Doulton, Wedgwood, and Lenox have established a strong presence in the Canadian market, while domestic brands such as Dudson, Becasa Porcelain, and Crown Ceramics also compete for market share. These established brands have built a strong reputation for quality and durability, making it challenging for new brands to enter the market.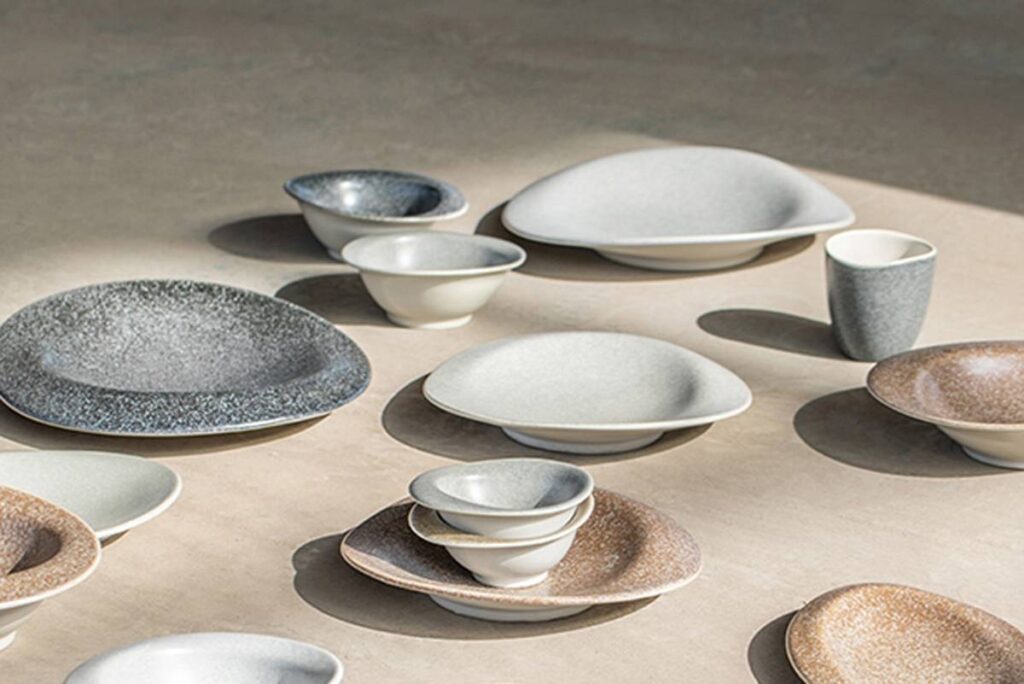 However, there is still room for new brands to succeed in the market for ceramic dinnerware in Canada. A new brand can differentiate itself through unique designs, sustainable and eco-friendly production practices, and targeted marketing strategies. By emphasizing high-quality materials and showcasing a commitment to sustainability and ethical production practices, a new brand can appeal to Canadian consumers who prioritize these values.
In addition, partnering with local artists, designers, or chefs can help build a network and establish a reputation within the Canadian market. Collaborating with other brands or organizations with similar values and target audiences can also help increase exposure and credibility.
And in this article, let's explore the top 15 porcelain companies and brands in Canada and study what they're special.
Wedgwood is one of the finest bone china brands, founded in 1759 by 29-year-old Josiah Wedgwood in Burslem, Staffordshire. The company is known for its quality bone china tableware, teaware, iconic cameo jade, and fine decorative objects. With a long heritage, the company has become a symbol of authentic British culture and an iconic British luxury lifestyle brand.
Wedgwood discovered Jasperware when he was experimenting in his pottery store. Since then, the pale blue Jasperware has become Wedgwood's signature color. Not only that, the brand was granted a royal license in 1995.
John Doulton invested his meager life savings in a small pottery business that has since grown into one of the largest and most famous porcelain brands in the world. Designed in shades of Pacific Blue, it's fresh and modern and easy to mix and match for a fun tablescape!
Today, ROYAL DOULTON is the UK's largest manufacturer of bone china for export. In addition to ROYAL DOULTON's own products, three major brands, ROYAL CROWN DERBY, MINTON, and ROYAL ALBERT, are all part of ROYAL DOULTON. Among them, ROYAL CROWN DERBY is the oldest brand, founded in 1748. It is also the first brand authorized by the royal family to use royalty as a trademark. The most favored ROYAL ALBERT by Princess Diana of the United Kingdom, its country rose series since 1962 production has now spread around the world more than 100 million.
Royal Limoges originated in the 1700s in Limoges, France, and was produced by factories in the region.
After the French Revolution, factories such as Bernardaud and Royal Limoges were established in Limoges. Because of the many fraudulent designs with Limoges in the region, be sure to purchase your porcelain directly from a reputable manufacturer such as J. Seignolles, Reynaud, or Philippe Deshoulieres.
Today, Limoges is still the leading porcelain manufacturing city in France.
Meissen Porcelain
Europe's first porcelain – Germany "Meissen" is the earliest established ceramic factory in Europe, but also one the world's best porcelain manufacturers, known as the porcelain world of Rolls-Royce.
When the reputation of Meissen is mentioned, people's minds will flash praise. This 300-year history of the German porcelain brand is known for its elegant design, royal temperament, and purely handmade. On the white dinner plate, two blue swords with graceful curves are interlaced as the classic symbol of Mason's century, alluding to the supreme taste. For hundreds of years, this German town as the name, the Duchy of Saxony as the emblem of the brand, has become a global symbol of fine porcelain.
Villeroy and Boch
The brand was founded in 1748 in France by Francois Boch and his three sons. Eighteen years later, they established a factory in Luxembourg. But in 1836, Jean-Francois Boch merged with his rival Nicolas Villeroy, and Villeroy & Boch Germany was born.
Since then, the company has been very successful and innovative. They also made mosaic floors for the Cologne Cathedral and their products can be found in famous places around the world, such as the Bolshoi Theatre in Moscow.
As a ceramics industry practitioner, I really like the old Luxembourg design of Villeroy & Boch from the bottom of my heart! It has been around since 1776 and its design is still not outdated even today. In addition, it is very elegant and not too floral and can even be considered an investment, as pieces like this really maintain their collector value.
Fürstenberg Porcelain
For more than 250 years, the Fürstenberg porcelain manufactory has been one of the most renowned manufacturers of high-quality branded products. The company, from the Weser River, is the second oldest ceramics manufacturer in Germany and produces Fürstenberg porcelain in an attractive palace complex.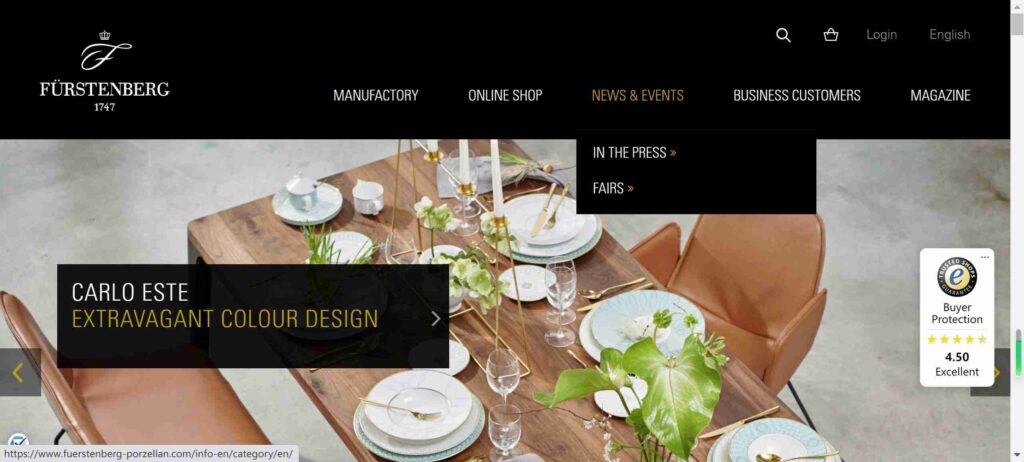 With a balance of centuries of experience, traditional production, and innovative technology, the Fürstenberg porcelain manufactory is still able to satisfy discerning consumers with excellent quality and attractive prices. The brand uses the blue "F" as the trademark for Fürstenberg porcelain and requires its employees to apply it by hand to each piece of porcelain. Whether it's a coffee or dinner service, or a single part such as a breakfast plate, soup bowl, or gravy dispenser, you'll see the blue "F" everywhere.
If you want to buy Fürstenberg porcelain, you are sure to find the right product in one of many collections. And the Fürstenberg porcelain collection is constantly expanding. In addition, the Fürstenberg porcelain manufactory also reproduces old collections for a long time, which is a great advantage and a tradition that has been preserved for centuries. This is also proof that their designs never go out of fashion.
Thomas Porcelain
For decades, Thomas Porcelain has been producing high-quality porcelain for everyday use. The pottery of this brand impresses with its modern and fresh colors and shapes. Their tableware not only combines unusual shapes and functions but also a variety of vibrant shades.
In addition, Thomas tableware offers a wide range of sizes of plates, cups, and bowls. Most collections include creamers, water bottles, and small plates. This allows you to use Thomas Porcelain not only for breakfast but also for all other meals of the day.
Seltmann Weiden
As with other brands, the name Seltmann Weiden stands for quality porcelain made in Germany. With a century of exquisite craftsmanship, they still produce hard porcelain tableware that is truly fired at 1400 degrees in this fast industrial age. They are careful in every production process to create environmentally friendly and trustworthy porcelain. This excellent brand is from the south of Germany, to achieve very few dishwasher-safe porcelain. Its 100-year porcelain factory production background and exquisite craftsmanship and strength wear-resistant and durability were favored by the Germans. Therefore, it is also one of the most favorite porcelain brands in Germany for nearly 100 years.
Seltmann Weiden tableware is characterized by an innovative design language, not only in the past but also today. Every dining table can be transformed into an elegant dining table. The timeless design of many collections is combined with high-quality standards that remain pleasing to the eye for many years after purchase. So it is not without reason that many collections are now sought after by collectors worldwide.
Becasa Porcelain is a leading ceramic manufacturer for global brands, and their in-house brand, "The Becasa," offers high-quality porcelain dinnerware, teaware, and home decor. Crafted with attention to detail, their products range from stoneware to bone china and are durable, functional, and visually stunning. Their commitment to quality has made them a trusted supplier to 5-star hotels worldwide.
"The Becasa" brand showcases Becasa Porcelain's expertise and features a range of styles suitable for any occasion. Customers can enjoy exceptional customer service and a 100% satisfaction guarantee. Becasa Porcelain also offers custom branding solutions for clients looking to create their own products.
Choose Becasa Porcelain for your next dining and home decor experience, and discover why they are a trusted partner of 5-star hotels and global brands.
Kahla Porcelain
Founded in 1844, Kahla porcelain has won nearly 100 international awards in the past 20 years since 1994 and has been commended and recommended by the "European White Kitchen Hat Association" and is known worldwide. In addition to creating diverse, innovative, individual, and flexible ceramic concepts, all of their products are designed to fit the habits of the home. In addition, they are willing to accept the challenge of developing new solutions in terms of product design, production costs, and environmental protection. The design and production techniques are perfect.
You will also find clear shapes in the Kahla tableware Abra Cadabra. Let your creativity run free with this versatile porcelain vessel. Here, a bowl with a lid becomes a decorative plate or an interesting coaster. Or combine various Kahla Abra Cadabra designs into new, personalized tableware.
Goebel
Founded in 1871, the century-old German art ceramics brand Goebel is located near the town of Coburg in North Bavaria, Germany, which has a history of more than nine hundred and fifty years. It is known for its handcrafted, high-quality ceramic pieces and is a well-known European brand of gift porcelain.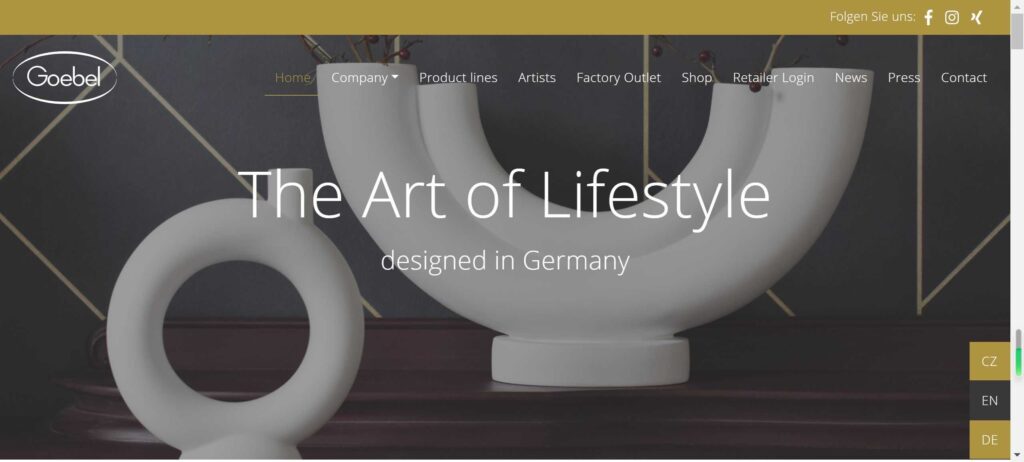 All their figures, tableware and ceramic decorations, and other kinds of ceramic fine art are produced by hand. Moreover, it has been widely loved and collected by ceramic fans all over the world. Most of its products are limited edition worldwide and have both texture and practicality.
In addition, you can also find suitable accessories such as glasses and tableware, cutlery, or tablecloths, which form a complete portfolio.
ASA SELECTION
ASA-Selection is the brand of German white ceramic designer Yvonne Schubkegel. The philosophy of ASA-Selection is "simplicity is beauty". The clean lines of ASA-Selection are aesthetically and functionally demanding.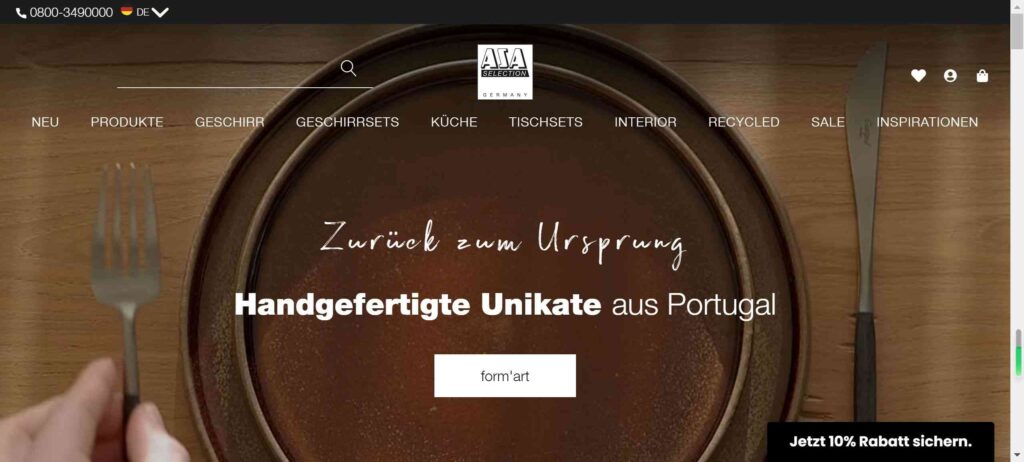 The ASA-Selection collection is unconventional, authentic, and innovative. They reflect the spirit of the times, combining good design with high quality. Tables with ASA-Selection tableware create a comfortable, friendly atmosphere that will keep hosts and guests coming back for more. These products are both lovely and familiar. You love to hold them in your hands, feel the materials and shapes, and enjoy their sheer beauty.
Lenox
Lenox, the excellent American brand, is also the special porcelain for the White House. It was introduced to the White House in 1918 by President and Mrs. Wilson. It has become an excellent American domestic porcelain brand for the President's table and is the only porcelain brand that has been used in the White House for more than 80 years.
Lenox bone china contains more than 50% bone powder, more than the ordinary bone china on the market, Lenox's ivory bone china is the brand logo. Fine Lenox porcelain allows light to shine through, bringing a jewel-like luster and texture that is worthy of the definition of art.
Today, Lenox porcelain is made with a high level of automated production equipment, from the ingredients to the molding of the product. Each step of the process is strictly controlled to ensure quality. The molds are all made by LENOX itself and the number of times the molds are used is strictly controlled to ensure that the products are not deformed due to mold wear and tear. LENOX uses two high-temperature firings in the electric kiln to ensure that the products are well-formed and hard. After leaving the kiln, the product is placed in a container filled with large and small stones, which is constantly rotating and polished for a smoother and cleaner surface. After the applique and baking process, the product is tested for lead and chromium content before it is packaged and shipped.
Rörstrand
Rörstrand was founded in 1726 at Rörstrand Castle in Stockholm under the direction of Johann Wolff, a German porcelain manufacturer. This makes Rörstrand the second oldest ceramic brand in Europe (after Meissen, 1709).
The production of Rörstrand was initially carried out in faience pottery. The original decoration was cobalt blue, inspired by the porcelain of China and other countries. Everyone could use porcelain – before that, food was mainly served on metal plates. It is also their classic designs and fresh, light patterns that have made them famous in Northern Europe. In fact, many of the styles currently on the market are over a century old.
Also, they have a very extensive line of mainly porcelain plates, including both tableware and decorative items. Small porcelain dolls are also available.
Royal Copenhagen
In the fairy-tale land of Denmark, there is a porcelain called Royal Copenhagen, which is made in the same way as China and is known as Denmark's national treasure.
It is also the best porcelain factory in Denmark. High artistic connotation combined with exquisite and elegant design, carefully made porcelain in rare treasures.
The most distinctive feature of Royal Copenhagen is hand-painting, an ancient porcelain painting technique handed down from 1775 to the present day. Each hand-painted piece is hand-painted by a senior painter, who signs the back of the piece with his signature and paints three water ripples to represent the three straits that surround Denmark. To this day, these water ripples are still painted on the back of each piece of porcelain, forming the most famous and authentic seal of Royal Copenhagen.
Ending
Overall, the market for ceramic dinnerware in Canada is driven by consumer preferences and price sensitivity, with a constant drive for innovation. While the competition in the market is fierce, the new brands still have many chances. We also hope that we can see more and more creative ceramic products and brands in the Canadian market in the coming future.