With less than half a month until Halloween, are you ready to welcome the arrival of Halloween?
Halloween is a ton of fun for kids, but we can make it more interesting! Why not have a Halloween dinner party for kids, adults, or both? After all, everyone needs to eat a little something before trick-or-treating activities, games, or dancing.
Therefore, a dinner full of Halloween spirit is especially important.
If you are still confusing how to set a dining table for Halloween, search no further! In this article,  we will show you how to put together a spooky dining experience filled with Halloween table decor. From a candle holder to a porcelain diner plate.
Halloween Dinnerware Set
Everyone wants to have an exclusive set of dinnerware for the holiday so that the festive atmosphere can be the ultimate! Do not hesitate, this pumpkin series stoneware dinnerware set can definitely make you satisfy. Not only is it perfect for children and adults, but it's fun and not too scary! Moreover, orange is the exclusive color of the Halloween spirit and never goes out of style. On top of that, this collection of tableware adds some cute pumpkin patterns as a decorative surface.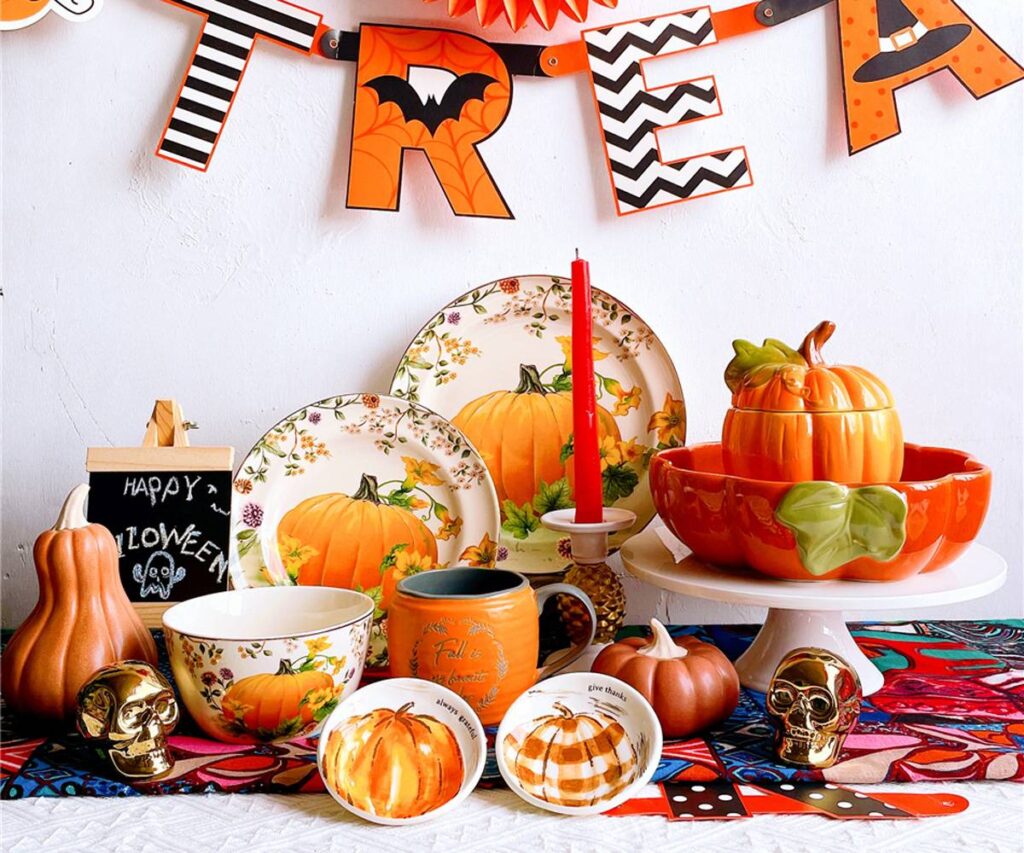 However, if you want your stoneware Halloween tableware that can also serve your family in everyday life. Then, the black tableware can also be used as part of the table setting, and it also serves as a great alternative to the orange tableware.
Drinkware
In addition to tableware, drinkware can also be turned into a style suitable for Halloween. Look at the ghost-shaped mugs and pumpkin horror pattern mugs. Both mugs are from Becasa Porcelain. Both mugs are perfect for parties at home and can be used to serve a variety of drinks such as coffee.
If you are a coffee shop owner and want your store to be festive, these two mugs are definitely a range you can consider.
Centerpieces
One of the best things about Halloween is that it's not always about spooky. Check out this adorable white pumpkin iron silhouette table lamp, which can be a decorative piece to enrich your table setting. This will make your party look more elegant and subdued.
If you plan to carry out trick-or-treating, the following handheld lamp can also be your consideration. This portable lamp is perfect not only on the table, or as an outdoor doorway decoration.
Candle And Candle Holder
If you want to keep the fun at the table unless you have an amazing candle. The truth is, you can't have a Halloween party without a little candle.
Popular choices for 2022 are the scary pumpkin-shaped candles and the spooky-shaped candles. They are sure to be a talking point at your Halloween party. Some flickering flames will help highlight the spooky atmosphere, set the tone, and help your guests remember the reason you're all gathered together.
In addition to candles, fun candle holders are a must. For those who prefer a less scary Halloween tablescape, these two cute ghost-shaped ceramic candle holders are definitely a top choice.
However, if you horror atmosphere lover, it's time to use skeleton Halloween candle holders. They can take this chilling effect to a whole new level now.
Pumpkin Decoration
Pumpkins are absolutely ideal for fall decorating. They span the entire season from September to Thanksgiving. And as a symbol of Halloween, pumpkins absolutely are an essential ornament. Pumpkins of all colors and sizes make stunning centerpieces and gorgeous fall decorations along with other natural elements such as leaves. Turning a traditional table setting into a stunning centerpiece and gorgeous fall decor is definitely something to marvel at.
Halloween Table Mat
Whether you're throwing a big party or a few friends coming over for a snack, it's fun to put together a Halloween table setting.
If you're ready for a tabletop arrangement, next consider trying out some of the Halloween decor options near your desk.
Halloween Balloon
No balloons, no party! The balloon DIYs are not only festive but also very easy. Happy lingering!
Halloween Tree Light
Who says tree lights are right for outdoor decoration? Tree lights are also suitable for indoor. Putting such a tree light near the table not only adds to the festive atmosphere but also serves as a lighting effect. Flexible but sturdy branches can be decorated with spider webs or a few spiders for this glowing tree branch. Get DIY and create your own Halloween style!
Do you love our tabletop decorating ideas? Tell us about your Halloween decorating style in the comments below or tag us in your photos on Instagram & Facebook. We can't wait to see what you create!